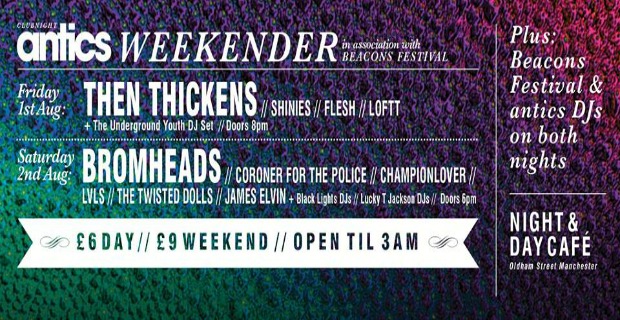 This year Manchester's Night & Day Café is playing host to a team-up of Beacons Festival and Antics nightclub for a two-day night of live music and DJ's into the early hours. The line-up includes hot new talent, familiar faces and the pick of Beacons and Antics DJ's – plus a few extras. Here's what to expect from the Antics Weekender…
Friday night starts of with a set of three big-energy-big noise acts before electronica outfit Loftt step in to calm things down with their uniquely chilled dance music, lovingly layered by the Manchester producer to create something both ambient and mysterious – the perfect bridge between the indie-pop bands before them and the DJ's following. The first act of the night though is the lo-fi alt-pop of the 6 Music championed act Then Thickens. A strong opener, the band's catchy but surprisingly restrained brand of music will get everyone in the mood for a good, slightly unconventional night. Then along to pick up the pace a bit are Manchester's own Shinies, an off-the-wall-off-their-rocker noise-pop group that meld the dreamy aesthetic of modern indie-pop with growly guitar and music videos of artistically arranged food fights (no seriously, the song's called "Taste", check it out below!) to stake their claim as the next big quirky pop band. Then there's Flesh. The third band up force together the rock of Oasis or Nirvana with speedy grunge riffs and Brit-pop drawl. It's like dragging the last three decades of British music through a 21st century grinder. You don't quite want to look but you can't tear your eyes away either.
Saturday night starts off in the same way – another run of hard and fast rock and pop bands with everything to prove and keen to make a name for themselves. 50's garage rock inspired BROMHEADS kick things off with no-holds-barred slick rock songs. Moving straight on to another rock rock rock band, Corner For The Police provide heavy riffs and bass, plus reverb-mad guitar and epic melodies which create a song that couldn't be described as anything less than completely confident.  Up next are another two of Manchester's own – drowsy droney synth-and-reverb drowned electro rockers ChampionLover have a touch of Neo-Pysch in their weighty noise-pop and gothic pop band LVLS mix a classic rock vocal style with crazy three-part guitar harmonies and mind-bendingly complex rhythms and sporadic beats. And finally, the last two bands re-interpret the blues into their music with The Twisted Dolls pulling out blues riffs and solos to use in their guitar powered pop melodies, and then the last live act of the night James Elvin drawing from the raw emotion and pentonic scales of the blues to bring you a brand of psychedelia the world hasn't yet seen. Gorgeous lyricism and maybe the odd harmonica solo are sure to feature.
Before the night ends of course it's time to bring on the DJ's, with Beacons and Antic both providing disc jockeys as well as sets from Black Light's DJ's, Lucky T Jackson DJ's and on Friday the Underground Youth are also out to play with a set of their own. All in, it's set to be two nights of raucous fun and the chance to discover some original and exciting new music. What more do you need?
Antics Weekender kicks off tonight at Manchester's Night & Day Café. It starts at 8pm and tickets are £6.
Words by Conori Blue (@ConoriBlue)
Be sure to 'like' us on Facebook and follow us on Twitter to keep up to date with all the latest Northern entertainment news!