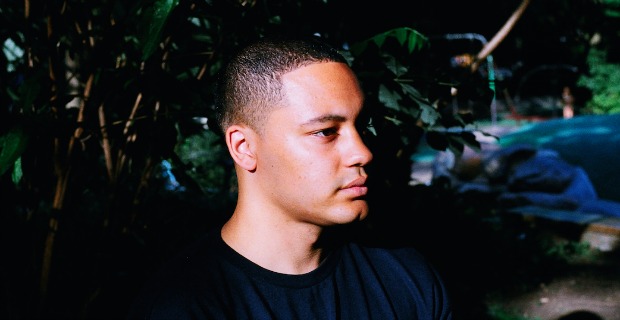 Ask anyone who knows and they'll tell you the current UK Grime scene is hands-down the most innovative and important development in British music this decade. After the current generation essentially started the scene again from scratch after the bottom fell out of 2-step and Garage, there's been a steady-feature creep and a legendary co-sign from Kanye at the Brits which put the spotlight on the current crop of artists. Whilst the bubble hasn't burst yet and allowed everyone else a look in, there's a powerful wave cresting, waiting to break any minute now, and there's an entire generation of talented musicians hungry for their shot.
DELS (real name Kieran Gallear) wasn't present at the Brits love-in, but that doesn't make him any less of a vital player in the scene. Knocking around for nearly a decade in various guises, DELS impresses on all fronts with his brand of thoughtful, introspective hip-hop; able to seamlessly blend dense multi-syllabic rhymes and a dose of street knowledge whilst managing to spit fire and pull a hilarious one-liner out of thin air. Whilst he has the bars to go head-to-head with any of the current crop of MC's though, it's his choice of producers and collaborators that really help to elevate his words from the grime ghetto.
Working with three main producers on his 2 LP's- Hot Chip's Joe Goddard, Micachu of the avant-garde Indie outfit The Shapes and the UK's own R&B super-producer Kwes- has allowed DELS to the chance to expand his sonic palette and expand the scope of grime instrumentals with three very different yet complementary styles that add up to greater than the sum of their parts: "They all provided me with challenging, but very inspiring music that enabled me to roam free creatively," DELS explains. "Kwes, Joe Goddard and Micachu helped me shape a sound that is very difficult to box within one specific genre tag, which is exactly what I wanted with that album. I wanted the music to take on a life of its own. And not take itself too seriously!" With these three steering the ship, plus a laundry list of jobbing Bass producers eager to remix every beat he touches, there's a deep bench for Gallear to draw from in the future.
On top of the stellar production work, DELS has also been racking up acclaim for his increasingly intense live shows. Embracing the increasingly analog future of live Hip-Hop by assembling a three-piece band inspired by his friend and frequent collaborator Ghostpoet and molding them into a slick, well-rehearsed unit by playing a staggering amount of festivals, clubs and basement shows; Rejecting the typical chest-beating bravado of live Rap shows in favour of an emotionally open and honest performance that does a great job of endearing himself to his fans.
DELS is stopping by Manchester on April 18th to play at The Roadhouse in one of the final run of shows at the legendary venue before it shuts down for good. The list of iconic artists that have played the Roadhouse in the early stages of their career is staggering- this is a prime opportunity to add one more name to the list before the doors are closed.
DELS plays our next NN Live show at The Roadhouse on April 18th. Buy tickets here.
Keep up to date on all the latest Northern entertainment news by following us on Twitter, Facebook and Google+.