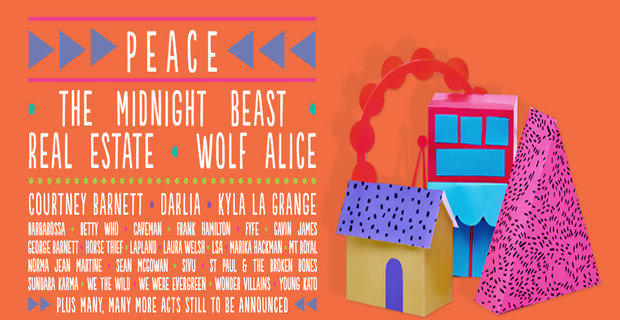 Dot to Dot Festival, originally based solely in Nottingham, now returns for its ninth year for three days across venues in Manchester, Bristol and Nottingham the weekend of the 23rd, 24th and 25th this May. Past performers at the festival include now household names Ellie Goulding, Foals and the Naked & the Famous, among many other impressive acts. The Manchester date, which takes place on Friday the 23rd, sees bands play at well established music venues such as the Ritz, the Deaf Institute and Sound Control among others, with doors for the initial gigs at half three in the afternoon and running throughout the night until 4am.
Dot to Dot joins the ranks of many other metropolitan festivals across the UK such as Live at Leeds and Great Escape Brighton as a haven for new talent, as well as offering festival-goers a chance to 'see it here first' before many of the acts go on the play arena shows. Last year's festival included sets from the 1975, London Grammar, MO, Dan Croll and Skaters, who have all established themselves in the past year and are a testament to the talent scouting capabilities of the creators and contributors of Dot to Dot.
Headliners for 2014 Drenge, Peace and Real Estate all present exciting additions to the festival. Two piece garage punk act Drenge's set at Liverpool Sound City resulted in a line down the block and exceeded venue capacity, the band having created a massive buzz for themselves via their extensive tour schedule, playing festivals and supporting fellow co-headliners Peace as well as Dot to Dot veterans Deap Vally. Worcester indie rock quartet Peace, who are due to release much anticipated second album Money in June also top the bill, alongside New Jersey band Real Estate, whose third album Atlas was released to favourable reviews and whose headline of the festival precedes an extensive European and American tour.
Other bands inadvisable to miss out on include Wolf Alice, who supported the 1975 this past winter and are currently embarking on their own headlining tour across the UK, as well as Welsh quintessential indie rock outfit Catfish and the Bottlemen, Blackpool grunge rock trio Darlia, Years & Years, the project of Skins actor Olly Alexander, and Drowners, who hail from New York and channel the Strokes.
If you're sifting amongst the extensive lineup for new bands to sample, don't overlook singer-songwriter Sivu, whose live performance is not one to be missed, or XFM favourites Amber Run, who can lay claim to the fact that their fourth and fifth gigs ever were at Reading and Leeds, as well as Oxford quintet Spring Offensive, full of original and honest lyricism and a captivating, beat-driven sound.
Tickets can be procured on the Dot to Dot website for a mere (and well spent) twenty quid, and grant access to all the venues in the city for which the ticket is purchased. The intimacy and close proximity of all the venues guarantee an exhilarating night to be had, whether listening to a well loved artist or discovering your new favorite band.
Words by Ruby Hoffman (@RubybHoffman).
Be sure to 'Like' us on Facebook and Follow us on Twitter to keep up to date with all the latest Northern music news!