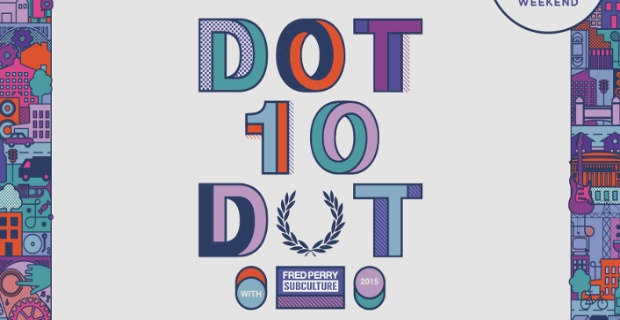 This year sees Dot to Dot festival 2015 celebrate its 10th birthday taking over a variety of venues in the urban centres of Manchester, Bristol and Nottingham over the weekend of the 22nd-24th of May. Hitting the streets of Manchester on Friday the 22nd, this day of live music and warm beer falls under the ever-popular category of 'Metropolitan Festivals' mirrored by others such as Sheffield's Tramlines and the North East's Evolution.
This type of festival is great; unlike the traditional set up when your backs only really comfort is God's green hair and your hygiene boils down to an awkward wet wipe wash, after a packed day of gigging you can stumble home, curl up under your duck-feather duvet and wash off all that grime under a warm shower the next morning. Dot to Dot won the Metropolitan Festival award in 2013 and is notorious for promoting new and upcoming talent. It has been a pedestal for many popular artists success; past line-ups have included Mumford and Sons, The XX and Jake Bugg.
The festival originated in the city of Nottingham, an origin shared by this years' headliner Saint Raymond, who's debut album is to be released in June. This singer-songwriter who supported Ed Sheeran on his recent Multiply tour in the UK and Europe, is a great match for the event. His music radiates that festival feeling; the sunshine beaming down and the soft indie goodness of appreciating that special moment with your friends.
Manchester and Nottingham will also be treated to the wonderful Rae Morris, who hails from one of the North West's jewel, Blackpool. Her recent success with debut album Unguarded and single "Under the Shadows" has seen her prominent on the radio and highly acclaimed among critics. Being from the North West, her show in Manchester will surely be a treat.
On a folky note, two Irish lads Harry and Alfie, together making Hudson Taylor, create that sort of foot banging music that forces you to raise your arms in the air, singing along with endless catchy choruses. They're sure to bring a memorable performance. However, if you like your music a bit more gritty, New York's Cymbals Eat Guitars have a great style embracing that lazy, broken Lou Reed sound. Also Single Mothers with their explosive, energetic punk rock are surely not to be missed.
Tickets are now on sale for £25, available through the festival's website. Keep up-to-date with the Dot to Dot line-up via #D2DFEST hastag on Twitter and the event's Facebook page.
Words by Amy Forde.
Keep up to date on all the latest Northern entertainment news by following us on Twitter, Facebook and Google+.