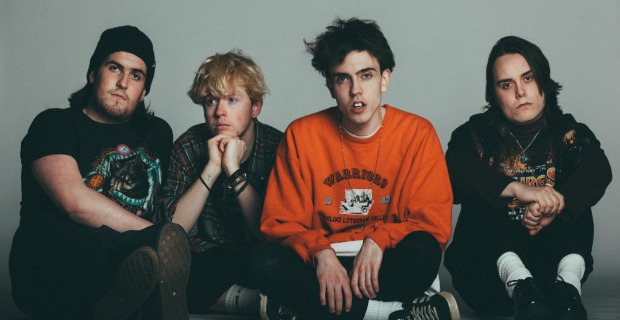 After a busy 2 years that produced a string of well received singles, a headline tour and a debut full-length LP, midlands quartet JAWS stage their triumphant return to Manchester with a show at Academy 3 next month.
Building on the success of their first headline tour to coincide with the release of debut album Be Slowly at the end of last year, the 'B-Town' scene forerunners will be taking in four dates in March, culminating in a huge hometown show at Birmingham's Institute. They're no strangers to the Manchester scene, having played two Northern Noise Live shows back in 2013, so the return of their dream-pop stylings to the area will be as good news for those who remember the re-formed Ride and Slowdive's first trips North as it will be to the young and floppy-of-fringe.
With obvious comparisons to hometown compatriots Swim Deep and Peace notwithstanding, JAWS offer an added powerful groove that befits Manchester's heritage, with youngest member (still only 19) Eddy Geach making a name for himself with muscular rhythms that add bite to the brightness of the melodies. Tracks such as "Gold" and "Home" on their debut album conjure up memories up the best bits of a Garage Flower-era Stone Roses, adding a grittier aspect to the more wistful dreamscapes showcased elsewhere on the LP.
Such dreamlike qualities are evident on tracks like "Swim" and the title track "Be Slowly", which is a Cure-referencing delight of a sub-3 minute pop single. Aforementioned "Swim" is as successful a 4am soundtrack to teenage longing as you could hope to hear, and there's enough elsewhere on the album to suggest that the band are always pushing themselves to create an identity that is very much their own. The album's first single "Think Too Much, Feel Too Little", a subtly aching ode to going home alone, sits in the type of groove that the term 'downer disco' was coined for, if indeed it has been at all, and is as much at home on the dance floor as it is on the headphones.
With the past giants of the shoegaze scene currently reminding everyone why they were so loved first time around, the ones whose sound and look they informed are now so often crafting timeless tunes that, if you haven't already, we recommend you get on board with this current crop sooner rather than later. Gone are the days where we hosted them in a crammed backroom at The Castle Hotel. With buoyant youth on their side, JAWS are surely only going on to bigger things, so make sure you don't miss them on their way up.
Keep up to date on all the latest Northern entertainment news by following us on Twitter, Facebook and Google+.