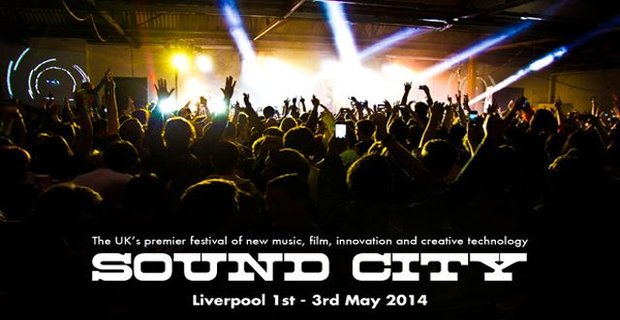 Liverpool Sound City returns the 1st through the 3rd of May this year, with over 360 artists selected from around 9000 applicants performing at 25 venues across the city, making it the UK's largest metropolitan festival.
Aside from a diverse lineup that draws from various genres of up and coming artists, also taking place will be the conference comprised of industry leaders and located at Livepool's Hilton Hotel, which this year focuses on the three interwoven themes of music, football and style. Keynote speakers, which include Andrea Madden (soundtrack curator of Made in Chelsea for the past several series as well as Played in Chelsea), Andy Day (co-founder of Gigwise.com), John Cale (of the Velvet Underground), John Doran (founder and editor of the Quietus), Rick Parry (chief executive of Liverpool Football Club), Spencer Hickman (the Record Store Day UK coordinator), Thurston Moore (of Sonic Youth), and Tony Evans (football editor of the Times), among many others. Those involved in the conference are "not here to educate, but to inspire", and the symposium provides superior networking opportunities with its heavy attendance of industry professionals.
Screenadelica, a gig poster exhibition which originated at Liverpool Sound City and has subsequently toured across Europe at various festivals, returns this year at a pop-up gallery where various artists who have been commissioned to design posters for key bands in attendance display their artwork, which is available for purchase by festival-goers. For the first time this year Sound City also presents a record fair, where rare collectable vinyl will be on hand to acquire, as well as the returning Buskers Corner, where acts get a chance to play the streets of Liverpool to the thousands of pedestrian attendees. Past bands who have participated in the latter include the likes of Florence and the Machine, the Wombats and Aluna George.
Headliners for this year's festival include popular and acclaimed artists Fuck Buttons, Clean Bandit, and Jagwar Ma, while the Kooks are slotted to perform at Sound City's closing night party in support of their upcoming new album. Indie fans shouldn't miss experimental and R&B tinged Oxford-based act Glass Animals, who are sure to draw attention with their debut EP Gooey, Birmingham- based bands Superfood (download 'Bubbles', a peppy Britpop anthem that contemplates the mundanity of twentysomething life) and Jaws (whose just released single, the meanderingly expressive 'Think Too Much, Feel Too Little' is sure to make its way on your most played list), as well as country-tinged (in a good way) Belfast brother-sister duo Southern, and ex-Futures synth-based new project We the Wild. Up and coming London acts making an appearance include indie pop duo Thumpers, the chilled and melodic vibes of trio Happyness, and psychedelic shoegazers Gentleman.
For the electronic enthusiast, Blackpool youngster Rae Morris, Australian-Swedish sister act Say Lou Lou, and William Doyle's project East India Youth (who has been featured in various publications for his debut album Total Strife Forever and is confirmed to perform at Parklife this summer), will assuredly find some new fans. Notable American indie bands the Neighbourhood (who have supported the 1975 and garnered radio play for their single 'Sweater Weather') and Nashville-based tropical act Wild Cub also shouldn't overlooked.
Liverpool Sound City 2014, with its class lineup of bands and diverse coverage of the muti-faceted art world, will surely not disappoint, and provides a closer alternative for Northerners to Brighton's Great Escape Festival for those seeking out their new favorite band, or just some good tunes and a stimulating atmosphere.
Words by Ruby Hoffman. 
Be sure to 'Like' us on Facebook and Follow us on Twitter to keep up to date with all the latest Northern music news!