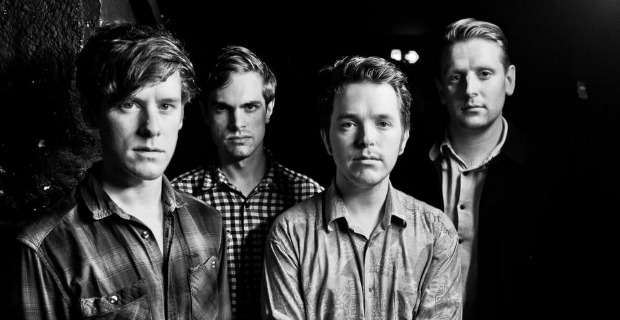 Patterns bring their ethereal soundscapes to Manchester's Deaf Institute on Saturday 28th March for a homecoming show that promises to be a special night for all involved. As well as the expected mix of skyscraping choruses and trippy drone-pop that the band specialise in, the four-piece have teamed up with award-winning director Sam Adler (of Manchester video production studio Plastic Zoo) to provide a truly unique 3D visual experience at the Manchester show. And if that wasn't enough, they plan to debut new material to the hometown crowd in what promises to be an unmissable night at the Grosvenor Street venue.
After a packed previous year, in which they consolidated the success of their debut album Waking Lines with a tour of Britain, Ireland and France, along with extra European dates, this return to Manchester is sure to find the band in confident mood. Waking Lines teamed older influences such as the Cocteau twins and The Jesus and Mary Chain with the more on-trend electronic leanings of bands like M83, resulting in an album of diverse beauty and dissonance.
With "Wrong Two Words"s stoned Psychocandy-esque harsh backdrop being offset by Ciaran McAuley's beautifully soaring vocals, the band seemed to be already making good on their aim of writing themselves into the history of psychedelic music. Elsewhere on songs like second single "Blood", they show they can create a hook-filled pop song as good as anyone, while still keeping their shoegazing roots firmly intact with a dreamily transcendent sound akin to the best of the scene.
With this one-off showcase of sound and vision, the 3D visuals that will accompany the band's shimmering and expansive sound make it a show not be missed (relevant eyewear available at the venue if you wish for the full experience). And with the band gearing up for their second album, this a great opportunity to get ahead of the game in what is sure to be a defining moment in their history.
Buy tickets to Patterns' Deaf Institute show here.
Keep up to date on all the latest Northern entertainment news by following us on Twitter, Facebook and Google+.