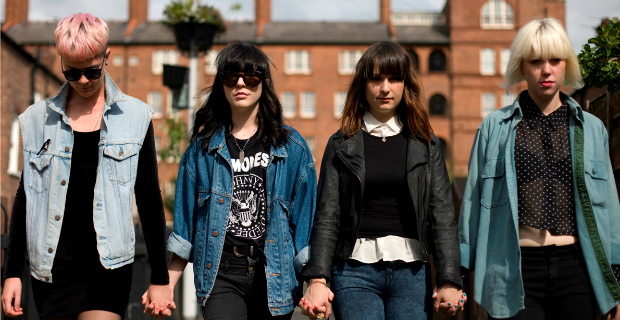 Kicking around since 2011, PINS first popped up in Manchester just as the popularity of a wave of scrappy, female noise-pop bands was cresting, occupying the same space as contempories such as Dum Dum Girls, Best Coast and Wild Flag. After shedding the scuzzy lo-fi sound of their earliest demos they've since managed to carve out an interesting niche for themselves within Manchester's music scene; first by drawing people in with a series of secretive gigs often held in strange places such as abandoned office blocks and hotel basements, then keeping them hooked by blasting crowds with their own unique brand of icy, industrial riffage.
You could call them a post-punk band. You could also call them noise-pop, or Indie Rock or Post-JoyDivisionCore with a dash of The Fall or countless other pithy signifiers, but what really matters when you first lay eyes on PINS is that they've got 'it'. The air. That tension and the giddiness that you're not quite sure what you're going to witness when they take to the stage. But most importantly, they've also got some good tunes.
Despite a relatively slim discography so far, with just an EP and their debut album, Girls Like Us to their name, the girls nevertheless manage to squeeze a versatility out of their sound that many of their peers have been unable to, switching their flow on a dime between dreamy pop, harsh noise and grungy riffs at a moment's notice. The band never feels like they're spreading themselves too thin though- quite the opposite in fact and playing with such diversity and confidence on their debut can only bode well for the future. They've definitely not peaked yet though- Girls Like Us has its highs and some great standout tracks but feels a lot more than blueprint than a cohesive statement. As such, at the moment it's much more interesting to see the band live, captivating audiences and still honing their sound.
This is usually the period when bands are at their most exciting, and with the band embarking on their first ever US tour this November before doing a quick victory lap of the UK with The Growlers now's the perfect time to catch them whilst they're on the upswing. The final date of the tour is at The Roadhouse in Manchester on the 16th and is already shaping up to be a barnstormer, as homecoming gigs at The Roadhouse tend to be. In the meantime, check out 'Come Back', a new recording from the band from their upcoming Cassette Store Day EP, which sees the band cover a selection of tracks from female garage-rock bands from the 60's.
Words by Tom Sanders (@Sanderrrsss)
Be sure to 'like' us on Facebook and follow us on Twitter and Google+ to keep up to date with all the latest Northern entertainment news!