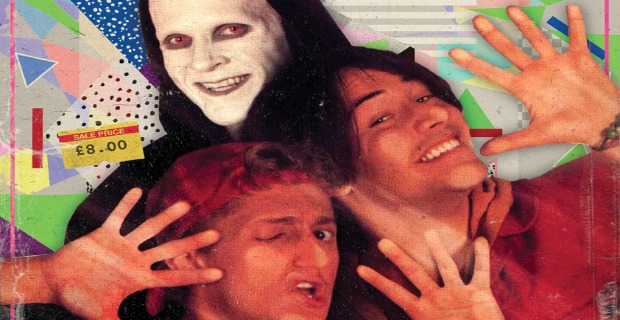 Manchester may be world renowned for its musical output but it's not without its fair share of film offerings too. This month the guys behind horror extravaganza Grimmfest bring Bill S. Preston Esquire and Ted Theodore Logan back to the big screen for a totally non-heinous double bill. The night's called R.A.D (Retro and Dangerous) and aims to resurrect the very best in iconic, cult cinema for your viewing pleasure. For their latest event, they'll head to Manchester's Gorilla for a back to back screening of slacker classics Bill and Ted's Excellent Adventure and its death-defying sequel, Bill and Ted's Bogus Journey.
Excellent Adventure sees our titular heroes (played by Alex Winter and Keanu Reeves) embark on a totally awesome adventure through time. Using their time traveling phone booth, the duo manage to picking up a couple of medieval babes, meet some famous historical faces and narrowly avoiding flunking high school with the help of their out-of-time friends. Bill and Ted's Bogus Journey ups the ante (and the budget) when a couple of robotic Bill and Ted clones (or 'other us-es') are sent back in time to stop the duo from writing the best music the world's ever seen. In order to restore things to their rightful place, the boys must take a  trip to hell, heaven and the San Dimas Battle of the Bands.
Not only will viewers get the chance to see these movies back on the big screen but they'll also be treated to a host of additional entertainment courtesy of the R.A.D team. Expect cocktails, hotdogs and a Twister competition live on stage where players can win a host of excellent prizes during the event. What's more, each attendee will get a free air guitar upon arrival. Station!
Advance tickets are £10 and available here.
Words by Simon Bland (@SiTweetsToo).
Be sure to 'Like' us on Facebook and follow us on Twitter to keep up to date with all the latest Northern entertainment news!