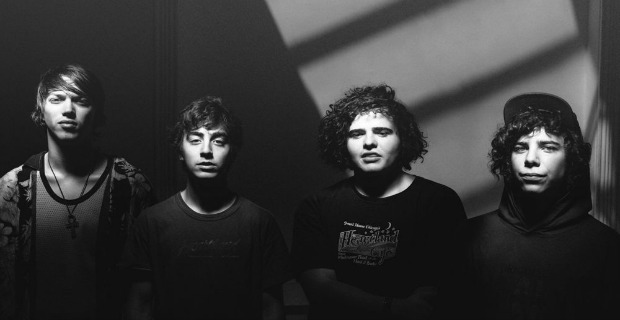 Not only are American rock quartet Twin Peaks just quintessentially cool to look at, they're the quietly unassuming underdogs of this new-ish wave of grungy yet groovy bands. This band tactically borrow their eponymous name from the 90's American cop show Twin Peaks, despite any of the band's members ever having watched the programme. Therefore, it's interesting to delve right into their little bubble of trippy tracks.
Think garage rock crossed with a slightly shoegazey, psychedelic vibe. Imagine punky, probably stoned Chicagoans with their instruments coolly slung across their torsos, ready for action. With influences such as The Strokes and The Rolling Stones, it would be difficult to make a crap couple of records.
2009 saw the end of high school for Twin Peaks, so lead singer Cadien Lake James thought it only right to create the line-up with his best friends. From there, after dropping out of university, they released two albums – the ambitious yet entirely great Sunken in 2013 and last year's equally excellent sister Wild Onion.
So, what makes Twin Peaks such a special band? Why would one want to see them live? Well, they're the sort of band that completely come alive in the right atmosphere. Dingy, sweaty venues welcome such enigmatic, fresh rock bands because their catchy tunes just seem to bounce off every surface. Not just any band can manage to master surf rock intertwined with a genuine pop underlay.
The Julian Casablancas-esque vocal teamed with swirly harmonies and an abundance of distortion on the guitars makes for a perfect garage-rock-psyche-pop dreamboat. They're a band for any mood. "Stand in the Sand" from their first album begins with the crowd-favourite lyrics "I never used to dig the sunshine much / Until I smoked some marijuana, yeah", which potentially just sums up the whole vibe of this foursome.
In short; according to the lead singer, this band named their newest release Wild Onion because his mother suggested it. If that (on top of the fact that they're pretty electric live) isn't reason enough to see them in Manchester this Friday 20th, then what is? Watch out for standout tracks "Strawberry Smoothie" and "I Found a New Way".
Keep up to date on all the latest Northern entertainment news by following us on Twitter, Facebook and Google+.