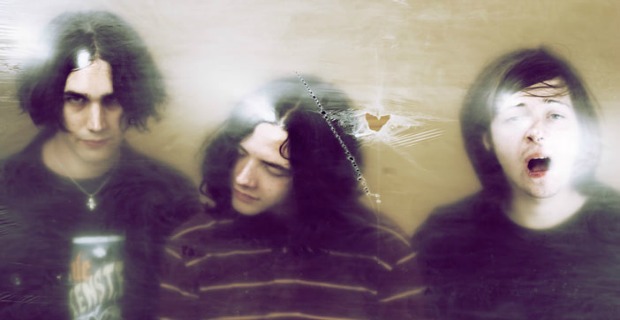 If you haven't been living under a rock the past few months there's a good chance you've heard of wryly self-proclaimed 'surf-doom' act The Wtyches, who have made appearances at metropolitan festivals such as Great Escape Brighton this spring as well as Beacons and Bestival, and have recently released debut album Annabel Dream Reader to high praise by the likes of the 405 and NME.  Singer Kristian Bell and Gianni Honey (drums), both hailing from Peterborough, relocated to Brighton in 2011 and recruited Dan Rumsey (bass and vocals) to embark on  a project that was initially entitled 'The Witches',  ironically chosen because the name 'lacked significance'; before later exchanging the 'i' for a 'y' under their label Heavenly Records' (home of Temples and Toy) suggestion.
The band, who have released past singles and EPs under Hate Hate Hate Records (under the same management as the likes of Fat White Family), recorded Annabel Dream Reader under Heavenly during a mere two day period in Hackney.  Overseeing the production was no other than Liam Watson, the producer behind the White Strypes' Elephant; and the forty-five minute, thirteen track album was crafted live to tape with no digital recording, adding to the immediate and heartfelt appeal of the- there's no way else to say it- angst-ridden tracks.  However, the dark lyricism of Bell, which includes such staple lyrics as 'you sit there and laugh as my dignity collapses' in 'Weights and Ties', is meant to be 'over the top' according to Bell, and it's this sardonic overtone- from their self-effacing genre of 'surf doom' to the band name itself and almost Poe-like lyricism, where the listener has to appreciate The Wytches ability to lend a note of self-mockery to the snarling anguish and clear break up anthems that the album serves up.
There's an intelligence that shines behind Bell's dark refrains, and his talent for lyricism cannot be discounted.  It seems a no-brainer that he has named Connor Oberst of Bright Eyes as an inspiration, and both singers share non-apologetic yet gracefully written lyrical refrains.  Clear literary influences aside, on tracks such as 'Summer Again', even the tumult of prior songs is slowed to a more deliberate and controlled pace, a reminder of the technical skill The Wtyches possess.  The often chaotic garage of The Wtyches lends a hand to both the supernatural and emotive, where the listener is held rapt in Bell's spellcasting rants; entangled into the deeper recesses of darkness that still retain infinite possibility.
The Wtyches, who have recently supported acts such as Blood Red Shoes and Drenge, have cited influences as broad as AFI to the Arctic Monkeys, and it's clear that their musical range has only scratched the surface with this initial album.  The band's DIY ethic, from arranging their own gigs and tours as well as album artwork, only add to the authenticity of their act.  Despite the sinister image they currently pervade, it's clear The Wytches are no one-trick pony; and it's apparent this is just the beginning for a hardworking, risk-taking and earnestly sincere act apt to surprise and captivate audiences.
Catch The Wytches at Liverpool's the Kazimier on the 11th October.
Words by Ruby Hoffman (@RubyBHoffman).
Be sure to 'Like' us on Facebook and Follow us on Twitter to keep up to date with all the latest Northern music news!