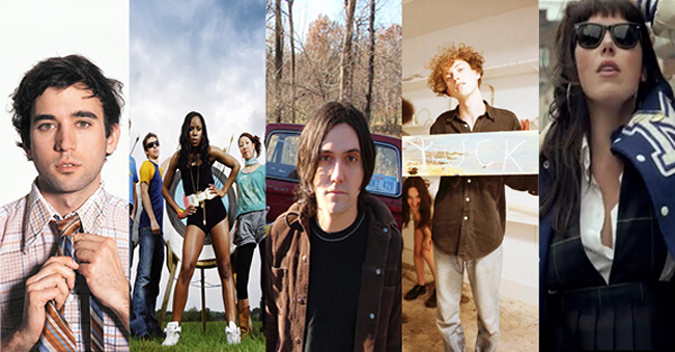 As February bids us farewell and the madness of March gets underway, here at Northern Noise we've decided to compile our best bits. Don't worry, this isn't going to take the form of an embarrassing Big Brother style montage, instead we have a Spotify mixtape featuring the best artists featured on the site and a glimpse of what we have rolled up our sleeves…
Listen to our February mixtape here…
The Go! Team – T.O.R.N.A.D.O
Nothing like a natural disaster to get you moving, although it's usually in the other direction. Luckily this Tornado is only an aural one. The Go! Team's colourful smorgasbord of sound burst back to life on the first of this month with Rolling Blackouts. For all of those following our live tweets from their Manchester date, here's the opener in an amazing set.
Yuck – Holing Out
Friday saw us Interview one of the most exciting acts in what many are seeing as a shogazer revival. The four-piece told us that a slot on the Glastonbury roster awaits them this summer, as a performance on the John Peel Stage has been confirmed. We'll be bringing you an interview feature shortly. The self-titled debut called, you've guessed it well done, Yuck, came out last week. Read our review and let us know your thoughts here…
Reel Big Fish – Beer
They conquered Preston's 53 Degrees last month during their 20th anniversary tour proving like a fine wine, Reel Big Fish only improve with age, don't believe us? Check out our review and interview.  Here's a classic track showcasing their catchy riffs and spot on humor.
Caitlin Rose – Shanghai Cigarettes
In March we'll be bringing you a live review from the wonderful Caitlin Rose, an American soloist steeped in  country tradition. Her debut, Own Side Now, is available on Spotify too so if you like this twangy number then check out the full release here.
Beady Eye – The Roller

Liam Gallagher's new band, basically Oasis without Noel, brought their debut out yesterday. We'll be giving you our review shortly. In the meantime you can listen to an album sampler here
James Apollo – The Bottom

We've been writing  rather a large amount of kind words about this American Troubadour recently, and with good reason. Northern Noise met the man himself earlier this month. Read our review of his UK tour and we'll be bringing you a review of his new record, not due until April, later this month.
Bright Eyes – Shell Games
We loved the folk rock with a pulse record that was The People's Key and we'll definitely be at Bright Eyes' upcoming Northern dates later this year.  Check out our review of the bands latest album right here.
Alex Winston – Medicine
Here we have an exciting Detroit based songstress with all the writing talent of Feist or Lykke Li and an interesting vocal range similar to Joanna Newsom, We have a taster of Winston's upcoming full-length UK release and will be posting a review this month.
Penguin Cafe Orchestra – Perpetuum Mobile
In the first week of February the madness this tongue-in-cheek orchestra have in abundance was exhibited at Manchester's Bridgewater Hall, with paper-mache giant Penguin heads over the top of each speaker. This group originally formed as the consequence of a strange dream formed when classically trained guitarist, Simon Jeffes, was suffering with food poisoning. Gigs at major festivals and a slot supporting Kraftwerk in their day has seen them remembered fondly. Here's our live review of the Bridgewater Hall gig
Everything Everything – Photoshop Handsome
Manchester's leading art-pop outfit recently played their debut album in its entirety with the backing of an orchestra! Photoshop Handsome is one of the standout tracks from this inventive record. The full live gig with orchestra can be viewed here
Iron and Wine – Walking Far From Home
The hushed tones and whisper folk melodies of Sam Beam, AKA Iron and Wine will be rolling into Manchester Academy on March 15th.  We'll be there, will you?
Carl Barât – Run With The Boys
The man who often stood in the shadow of Pete Doherty gives a candid interview detailing his thoughts about further gigs with The Libertines, his solo record and his first steps into fatherhood. Read the interview here
Joshua Caole – Wish You Were Where
This talented songwriter recently supported James Apollo as he made his way through Manchester. Read the review here
Dutch Uncles – Fragrant
One of the most exciting Mancunian acts around released their new single, Face In, only days ago. We also checked them out as they performed in the big smoke with Egyptian Hip Hop. Read our review here Also we have a few shots from the gig here
Man Overboard – Fantasy Girl
Their tour may have ended last night at Liverpool Academy but Northern Noise caught up with this New Jersey four-piece while they were in our neck of the woods. Check out a few words with the band right here.
Egyptian Hip Hop – Moon Crooner
These Northern youngsters recently headlined a New To Q gig in London. Here's our review and gallery
Sleigh Bells – Kids
We caught the distorted beat-breaking ear assault of this duo at Deaf Institute in Manchester. Read the review here and also check out our fantastic live gallery
Crystal Fighters – At Home
These were huge favorites of ours at In The City 2010 and remain so with their fantastic fusion of different genres.  Here's their new single, details of their March tour can be found here.
Daedelus – Fair Weather Friends
From LA to Leeds and Manchester, producer turned music pioneer Daedelus will be treating Northern fans later this month to a series of intimate gigs.  Here's a classic track from 2008's Love to Make Music To.
Sufjan Stevens – Decatur
Can't wait till Sufjan returns to Manchester in May? Neither can we. In the meantime, enjoy this classic track from 2005's breathtaking Illinois.