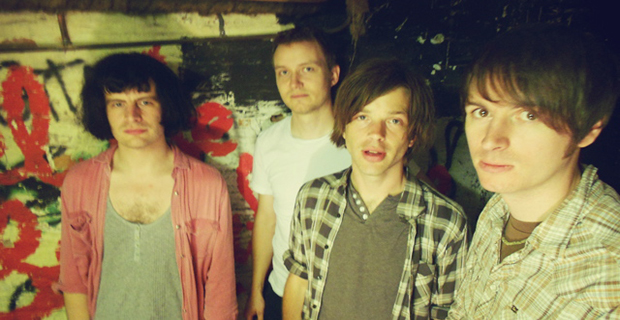 Ready for an early Christmas present? To celebrate our first full year of live music goodness, we've arranged an end of year show in the party capital of the North. We're well excited to announce that on December 17th Northern Noise Live will be bringing Nine Black Alps to one of Blackpool's most iconic rock venues. This Manchester quartet will be arriving at The Tache for a Blackpool blow out – an event perfect for helping you secure that fuzzy festive feeling through a combination of Christmas spirit, great music and cheap booze. What more could you ask for this Christmas?
Earlier this month, these Mancunian alt-rockers released their fourth studio album Sirens before heading out on their first tour in over three years. Clearly eager to get back on the road, Nine Black Alps will head up to Blackpool for us in December as part of a mini Winter trek. The follow up to 2009's Locked Out From The Inside, Sirens is a back to basics 9-track explosion of an album, laced with a dirty,  grungy attitude and patiently recorded in the band's very own studio. This collection of surly new material comes after the band took a brief hiatus to peruse other projects. In the time between Locked Out From The Inside and Sirens, vocalist Sam Forrest released a string of solo albums while guitarist David Jones played session guitar for The Cribs and formed his own band Milk Maid, a familiar Northern Noise fave. All the while fans were asking when Nine Black Alps would return. After a three year wait, the band are back with a bang and show no signs of slowing.
Joining them on our Northern Noise bill are one of Blackpool's hottest up and coming acts. Opening our night, we have the epic instrumental six-piece Goonies Never Say Die kicking things off in style with their cascading, cinematic sounds. They'll be followed by a second special guest to be announced at a later date.  Featuring the best live music the local Blackpool scene has to offer and the amazing return of one of Manchester's most recognized bands, we're more excited about this show than a lifetime supply of Blackpool rock or Pleasure Beach wristbands. And all this  for the super cheap price of £10 per ticket. Lovely stuff.
Throughout 2012, we've been lucky enough to host some amazing acts in some of the best venues in and around Manchester. We love live music and want to extend our shows off the beaten touring track and into the Northern wilderness.  We'd like to bring the bands you care about to YOU, showcasing some of the regions most unusual and intimate venues in the process. If you're on board, the sky's the limit. Blackpool-ites – if you want to see more big name bands appear on your seaside stages then come down and show your support. This could very well be the first of many Northern Noise Live shows or club nights in the area. After all, we do love to be beside the seaside…
Do you have a similar local haunt that you want to see become the next one-night-stand for your favourite artist? Then let us know.
To buy tickets for Northern Noise Live: Nine Black Alps at The Tache, Blackpool, head here, here or here.
Show your support by joining the Facebook event page.
Words by Simon Bland. (@SiTweetsToo)
Be sure to 'Like' us on Facebook and follow us on Twitter to keep up to date with all the latest Northern music news!