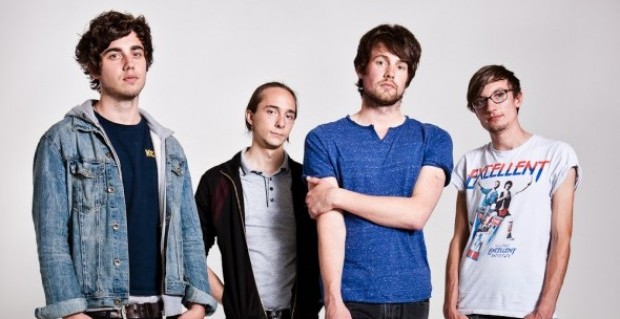 October is a busy month for us at Northern Noise. Not only have we got Jim Noir's Album Launch on the 6th, but we also have headline acts like Novella, Coves and Lucy Rose. The music doesn't finish there though.
On the 20th October we are proud to announce that we will be hosting SHINIES for their hometown Single Launch Party. We'll be taking the celebrations to Trof Fallowfield, newly refurbished and deep in student territory. Tickets are only £5 .
SHINIES grew out of the late night jams of Ric, Adam and Tom in a South Manchester basement, fuelled by a mutual love of loud noises, discordant chords, catchy melodies and cheap cider.
Since forming in December 2011, it didn't take long to be picked up London hype label Dirty Bingo and get tracks recorded by none other than Rory Atwell who has produced for acts like S.C.U.M, Yuck, Veronica Falls and The Vaccines.
The single being launched is 'Ennui' which continues with there shoegaze, lo-fi sound. Driving with a catchy melody and the vocals drifting on top, it's an easy song to like. The video was released today and features a relatively dark plot of kidnapping a well known 90's TV presenter…
Supporting them is London based Crushed Beaks. The duo, Alex Morris and Matthew Poile, have found a way of creating a swirling cacophony of sound despite the lack of band members.
Formed through a love of Italian horror films, they have managed to combine the immediacy and shock of these slashers, although we can assure you that their music will get your blood pumping rather than getting it spilled over the dance floor. This band delight in immersing their scuzzy noise in excitable ferocity. Don't miss out – BUY TICKETS.
words by Daniel Savage