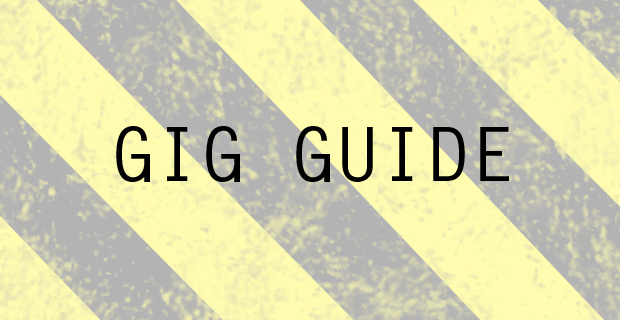 Manchester's music scene moves pretty fast, if you don't stop and look around once in a while you might miss something. Ferris Bueller said that…sort of – but it's true. There's lots going on in our fine city and while it's impossible to catch everything, you can certainly try to catch the ones that count. Northern Noise writer Ruby Hoffman has cherry picked her six must-see gigs happening in Manchester in the month of November. So turn on your smart phone, boot up the diary and get ready to type…
5th November @ Gullivers – the Xcerts – £7
Remaining relatively quiet for the past couple of years since their last album, Aberdeen three piece the Xcerts are back, embarking on a UK tour in support of their soon to be released third album, There is Only You and singles 'Shaking in the Water' and 'Pop Song'.  Having toured extensively in the past supporting the likes of Brand New, Futures and Twin Atlantic, the band have produced their own soulfully infused, catchy pop rock anthems, fronted by Murray Macleod's angst driven (in a good way) vocals.
6th November  @ the Deaf Institute – Superfood / Honeyblood – £9
Much hyped Birmingham quartet Superfood also hit the road in November playing tunes off their vastly anticipated debut album Don't Say That (released 3rd November)  after numerous well-received EPs.  The band have become a fixture on the live music scene, supporting acts such as Peace and We Are Scientists over the past year, earning them a slot at Glastonbury as well as a slew of other festivals, and their 90s-infused indie gems are sure to impress.
Joining Superfood are fellow 90s-indebted Glasgow two-piece Honeyblood, and if you missed them playing their own headlining tour that stopped off at Soup Kitchen in October or supporting the likes of the Palma Violets, now's your chance to hear their debut album and unique band of acidic grunge rock- highly reviewed by NME – and decide for yourself.
 8th November @ Soup Kitchen – Amber Run / Fyfe / Kimberly Anne / Pixel Fix – £8
If you're short for time this month and fancy combining the best fresh indie music into one night, don't miss the second year of that Communion Music New Faces tour, which highlights four up and coming artists playing a different UK city every night for a week; this year featuring UK artists Amber Run, Fyfe, Kimberly Anne and Pixel Fix.  The tour provides the opportunity to see these acts intimates venues while there's still the chance, and with every advance ticket purchased the listener will receive a free sampler EP download that includes a track from each of the bands.
12th November @ the Deaf Institute – Adult Jazz – £7.50
Fans of Alt-J will find a lot to love within Leeds quartet Adult Jazz's adventurous and eccentric debut album.  The latter band, who have figured prominently in the Northern scene for the past few years, have finally delivered a conceptual album full of what frontman Harry Burgess has called 'personal, individual stories that share a common theme' and it's highly advisable to see how their experimental and idiosyncratic songs will be played out in a live setting: not one to be missed.
19th November @ Manchester Academy 2 – Kiesza – £11
Fresh off the success of single 'Hideaway', the r&b-infused pop songstress makes an appearance at the Academy, and it can be reasonably assumed this will be the smallest venue she'll be appearing for quite some time.  The Brooklyn-based singer, who has written several songs for Rihanna  that are rumoured to be included on the latter's next album while also having featured in Skrillex and Diplo's new project, is sure to be an omnipresent voice in the upcoming year.
Also Look Out For:
1st December – the Ruby Lounge – the Wytches – £8
The highly acclaimed 'surf-doom' sound of young Brighton trio the Wytches have led to the selling out of their end of the month gig at the Deaf Institute, but fans who initially missed out will be happy to hear that the band have just added a new date at the Ruby Lounge a few days later- giving gig-goers something to look forward to in December.
Words by Ruby Hoffman (@RubybHoffman).
Keep up to date on all the latest Northern entertainment news by following us on Twitter, Facebook or Google+.