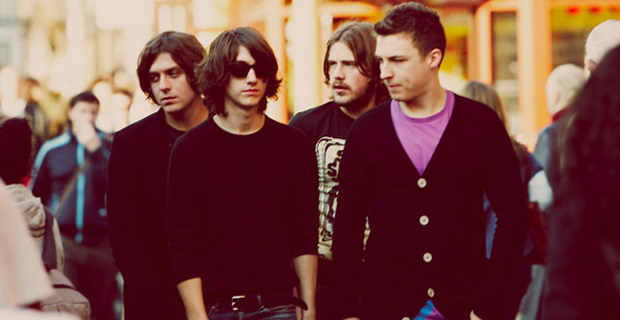 The album title may make you think back to an uneasy weekend at Uncle Mark's house but the Arctic Monkeys aren't Spinal Tap, so let's move beyond the innuendo and onto the content of the album.
It opens with the chilled She's Thunderstorms and Black Treacle, both sounding like you would expect any Arctics song to, not that this is a bad thing. The Arctics have always had their own sound and for those worried about them losing it after the influence of Josh Homme in previous album Humbug, will be pleased to know they haven't. The only trouble with the opener is that when someone mentions that the chorus sounds like Cheese Thunderstorms it's very hard not to hear it as anything else.
The pace then picks up with Brick by Brick and one of the strongest songs on the album, The Hellcat Spangled Shalalala. The first single, Don't Sit Down 'Cause I've Moved Your Chair is undeniably  more Humbug than any other song on the album with Library Pictures contrasting by encapsulating the entire Favourite Worst Nightmare sound. Although as one tweeter said about Don't Sit Down… it seems to have "silly lyrics for the sake of it".
All My Own Stunts is a bit forgettable (other than the shouts of "because I'm from High Green" as the song closes) but you don't really care when Reckless Serenade begins. Another strong contender for best song of the album in spite of being one of the shortest. The album chills down again with Piledriver Waltz and Love is a Laserquest continuing that feeling.
The album closes with the track, Suck It and See, which has some elements of Beach Boys in there (think the slow section of Good Vibrations) which can't hurt but seems a bit detached from the rest of the album. Finally is That's Where You're Wrong.
What it is: A good album. A really good album. Incorporating all the good bits from Humbug and Favourite Worst Nightware, with the highly developed storytelling talent of Alex Turner. This is possible the best body of work since the debut.
What it isn't: A raucous festival chant-along.
Best tracks: The Hellcat Spangled Shalalala, Black Treacle, Reckless Serenade.
Words by Daniel Savage.
For full details of Arctic Monkeys' recently announced UK tour head over here.