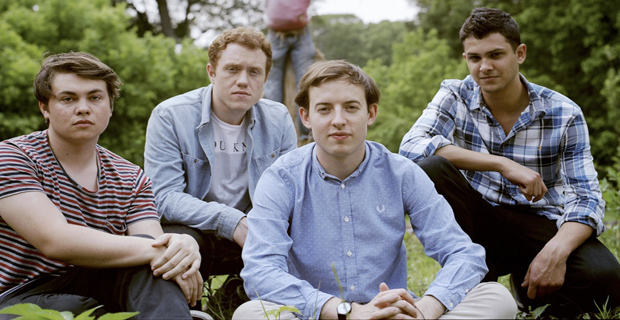 Billed as their decisive 'plugged-in' come-back, A Different Kind Of Fix promised to bring synths and sampled loops to the mix – yet it's much less of an electric-dance boom than expected. Layers of echoed vocals and washes of understated guitar plucks create a pleasant, if not soporific experience. The charm of debut, I Had The Blues But I Shook Them Loose, was its mixture of subtle earworm inducing riffs and front-man Jack Steadman's delicately bleating vocal inflections – not to mention raw teenage energy. These are still there, but added textures cause an alienating detachment, nuances are buried amongst swirling keys and melismatic vocal loops in what is surely an attempt to garner greater mass-appeal.
Many will claim this to be another huge step forward for one of the most inventive bands in the UK, but in truth this is lingering kudos from previous acoustic album, Flaws – a giant leap of genres from a group desperate to prove themselves to be anything other than an average indie band. Indeed what we have here could well be seen as the tricky second record. Flaws, was after all instigated by Island asking for an acoustic contribution to the soon to be released John Martyn tribute album. The project spiralled into a fully-fledged record but was still intended to be a low-key affair – produced in Steadman's bedroom – and brought out at the behest of the group after initial trepidation from the label. It went on to sell over 60,000 copies and peak at number eight in the UK charts.
There is nothing half as bold or courageous about A Different Kind Of Fix. It's a safe return, and will gather many safe reviews from those unwilling to go against the 'precocious youths making three varied albums in three years' angle. While admittedly each release is different, if you take the second LP out of the catalogue then the 'inventive' tag is hard to justify. Initially there were talks of a Frank Zappa inspired experiment, and with the inclusion of Animal Collective's Merriweather Post Pavilion low-end production expert, Ben Allen, you could be forgiven for expecting a real Hip-Hop influence.
Nonetheless it's a well-rounded album with some great songs. Looped keys begin preceding single, Shuffle – the best realisation of the vision to blend indie with dance rhythms. Jolting vocal samples and saxophone backing, plus a strong snare give a real kick to this warm pop song which still experiments with new genres.  Equally Lights Out, Words Gone is a soothing chill-out move with peaceful vocal layers and a slow-paced strong beat alluding slightly to Hip Hop influence.
Trouble is attempts at innovation are often carried out meekly and lack assertion on the ear. Sparkles of synth effects flutter within What You Want for example, but rather than being an exhilarating psychedelic highlight it comes across as an expansive atmosphere overloaded with reverb and ultimately is indistinctive in comparison to the better parts of I Had The Blues… Such a polished pop sound may well prove to be popular, but Coldplay aren't without their critics.
One of the best moments comes with a more stripped-back approach. The closer, Still, is a powerful pluck at the heartstrings, recalling Thom Yorke's solo work. With the right amount of Steadman's fragile warbling style being backed by a piano, and building layers of vocal effects. One can't help but wonder what a unique album this could have been were there more creative sparks like this. A Different Kind Of Fix is enjoyable, with some really strong songs, but it's not a fantastic plugged in re-emergence. A band that fought so hard to get rid of the 'just another indie band' tag after their debut may well have to prove themselves to be distinctive again after this mainstream effort.
Words: Simon Butcher