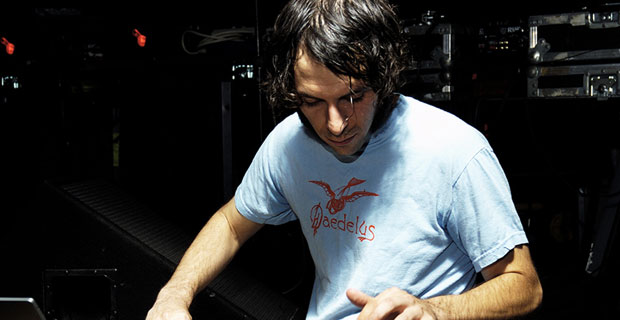 Bespoke – Out 11th April
Hailing from Santa Monica, Los Angeles, experimental DJ/music producer Alfred Darlington takes the name of his alter-ego Daedelus from Greek mythology in which 'Daedalus' is a skilful craftsman known for his innovation in the arts and this artist certainly has a sound to match the name.
His latest album, Bespoke, is to be released on the hip London-based label Ninja Tune (which boasts the likes of popular experimental mainstay Mr. Scruff) and can be somewhat described as a labour of love. Given the alternative and much varied mix of beats, styles and sounds that Daedelus provides over the course of Bespoke's 11 tracks this is not an album which you will fall in love with at the first listen.
However, perseverance will be the key to this album's success and the more you listen the more you get drawn into the laid-back (yet surprisingly upbeat), innovative and multi-faceted experience that you are pulled through. It is, in fact, almost contradictory to call this an 'album'. Normally you expect to hear patterns and a coherence in beats, rhythm and musical approach. Daedelus does not adhere to such conventions and the penultimate track, Overwhelmed, is an accurate indication of your emotions as the album comes to an end.
Bespoke starts with the Badly Drawn Boy-esque sounds of  Tailor-Made quoting the lyrics 'you can do anything', apt given the experimental nature of this album. But in truth Bespoke does not really get off the ground until you encounter the third track, Penny Loafers, featuring Californian singer-songwriter Inara George. The train-like beat perfectly complements the silky, attractive tones of George and are made even more appealing by some well-chosen, engaging lyrics hinting at troubled and selfish love. Couple this with backing vocals more reminiscent of a wartime Glenn Miller than a 21st Century innovator and you have a fantastic track that shows us all what Daedelus is capable of. One and Lonely is the other stand-out song for this album. You can't help but nod your head to the off-beat rhythm and driving bass as the airy backing vocals lead you on an undulating journey through fast beats and calm harmonies.
 This is not to say that the rest of Bespoke is found wanting or bereft of enjoyment, quite the contrary. Daedelus takes you through a range of emotions. In Tatters,with an atmospheric feel akin to a film soundtrack, allows you to picture a broken man trying to pick himself up from a life not worth living. Yet In Tatters sits amongst uplifting tracks like the pulsing Slowercase D or Suit Yourself which makes enjoyable use of big brass harmonies in a way not dissimilar to the aforementioned Mr. Scruff. Not wanting to restrict himself to any one of various musical genres featured in this album, Daedelus also throws in some dub bass towards the end of the album for good measure.
Bespoke is the all round experimental electro experience. By throwing us a real mixture of styles, emotions, sounds and true modern innovation, Daedelus marries together tracks in a way that doesn't feel disjointed but doesn't naturally flow either, thus creating an 'album' (for want of a better word) that is really worth your time. With every listen you hear something new. A new voice, a new synth line, a new layer to the complex array of rhythm and melody. Don't expect to be blinded by love at first sight, but with a few fantastic tracks, enticing beats and a whole wave of creativity Bespoke may require time, but your patience is duly rewarded.
Words: Steven Baldwin
Other On Repeat albums:
Noah And The Whale – Last Night On Earth