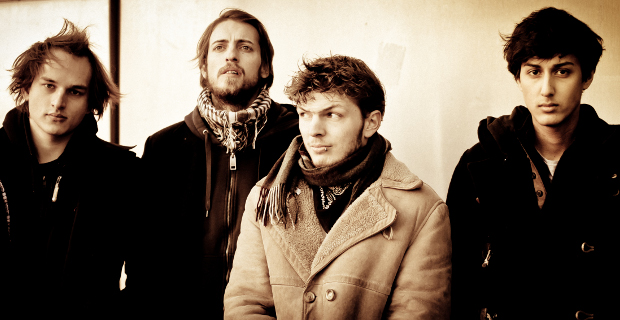 A Horse Inside My Head is the début album from young Parisian four-piece Divine Pilot. Though based in the capital, frontman Charles Domanges spent time at an English-speaking school and hence sings in English. Apart from the odd twang here and there, you wouldn't think you were listening to a group of French speakers – essential for a band looking to make waves outside of la France.
 When a review was initially suggested we (inevitably) immediately asked ourselves 'What genre is it?', and couldn't offer a sufficiently defined pigeon hole. The opener, Breathe, kicks things off in true indie-dance style (read The Sunshine Underground), with an incredibly catchy guitar hook and a head-nodding drum beat. Polished vocal harmonies also feature, and continue to do so throughout this début.
 Despite the indie goes dancing opener, by the end of fourth track Lonesome Rider, listeners have a greater understanding of Divine Pilot's diverse, or as they put it "complexe, passionel et incertain", approach to styles. Together In The Dark provides a slower more harmonic feel, making use of piano chords to add a certain depth to the sound. Voices then showcases the album's title with the lyric 'there's a horse inside my head, telling me to run away", and is altogether more pensive and uneasy in the atmosphere it creates.
 Lonesome Rider on the other hand is far more relaxed with the lead guitar gliding above a fairly bare backing provided by bassist Corentin Macé-Malaurie – the overall effect being not dissimilar to that provided by The Shins on Wincing the Night Away.
As if to flaunt their versatility, the band follow with White Bird. It's a heavier track, erring on the side of light-metal with harmonies and crash cymbal use striking a chord reminiscent of early System of a Down. This song is one of the highlights and an accompanying video, directed by friend of the group Louis De Sailly at a lake in central France whilst on tour, is a perfect atmospheric accompaniment. White Bird does however finish abruptly at two and a half minutes.
 Another stand-out track is World In Between. It starts with the sound of running water alongside echoing harmonies followed with an attractive acoustic-vocal before syncopated rhythms begin to build layers to a song that lilts, carrying with it a sense of contented happiness. The final section – separated from the rest by a pause – is superb. Layers are rebuilt culminating in well constructed multiple-part vocal harmonies.
 There also looks to be more exciting music to come if the latest tracks featuring on their "Totemic Live" session are anything to go by (see their YouTube channel). They're also a more than half-decent live act. It is therefore fair to say that Divine Pilot are the perfect advert for the type of talent and potential that can be found in the Parisian music scene and this young group will hopefully receive the level of attention they deserve both in and outside of l'Hexagone.
Words: Steven Baldwin
Follow Northern Noise On Twitter
Get Tickets for NN Live at The Castle Hotel with Torches Headlining!