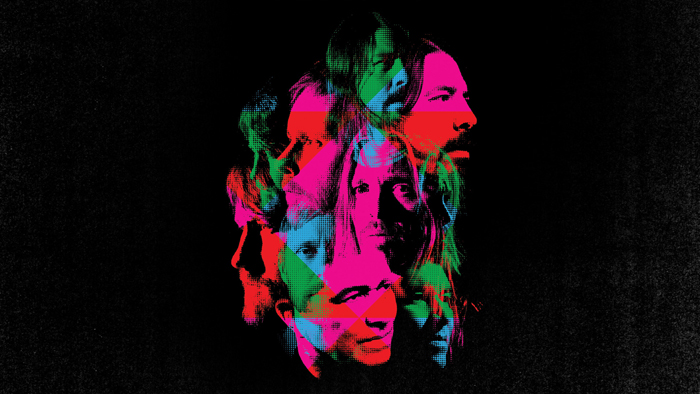 The evolution of the Foo Fighters is a weird one. While there's nothing wrong with their newer material, there's not always that much right with it either. The bottom line is: the Foo's simply aren't dangerous anymore. A quick Youtube search will show a long haired, twenty-something Dave Grohl, complete with 'I don't give a fuck unless it's fucking loud' attitude, hurling pieces of his probably pricey kit into the just as pricey equipment of his Nirvana band mates.  How things have changed.
These days Grohl and his band of Foo Fighters are PG-13, a festival headlining act that anyone can enjoy.  However, it's clear that the grungy, angry kid, with nothing but distorted guitars and booming bass drums running through his veins is still in there somewhere. Maybe that's why a 'back to basics' regime was adopted for their seventh studio album Wasting Light, recorded on analogue tape no less with Grohl banning computers from his basement studio.
Couple this with Nevermind producer Butch Vig jumping into the driving seat and the band recruiting a new fighter of the Foo, ex-Nirvana guitarist Pat Smear – needless to say expectations were high.  Does it deliver?  Well, sort of…
'These are my famous last words!' screams Grohl in opening track Bridge Burning, and if indeed they are his last words, then he's chosen to go out with a bang. Skewered guitars intertwined with a classic six-string crunch dominate this first track and, backed by Taylor Hawkins' pacey drumbeats, a valiant attempt is made to maintain this energy for the rest of the record.
Taking advantage of Smear's extra pair of guitar hands, the band create an all-over-the-place rhythm for Rope and do the same for Dear Rosemary slowing the tempo and adding some extra heart.  Yet there's a feeling of restraint, that the band aren't quite rocking your socks just yet, thankfully that changes with White Limo, the epitome of what the Foo's are trying to achieve with Wasting Light. Perfectly capturing an electric new sound – angry, loud and fast, Grohl's animalistic snarls are barely audible over a metal riff and, for just over three minutes, the band seem to forget their audience and simply indulge themselves in some head banging fun.
It must have taken it out of them because that energy slowly dissipates from here on out.  Alandria has that loud-to-quiet switch reminiscent of earlier Foo tracks while Back and Forth offers a tame but catchy rock chorus hook that the band have become renowned for. Perhaps to avoid the danger of tracks simply blending together, they slow things down for the competitive I Should Have Known, a love letter to Kurt Cobain featuring Nirvana bassist Krist Novoselic, before ending with the upbeat Walk and its anthem-like chorus.
Overall, the Foo Fighters have worked hard to maintain their status on the airwaves, once again proving themselves as the rightful heirs to a throne they've always owned – middle of the road radio friendly rock. Will we ever get another The Colour And The Shape or There's Nothing Left To Lose? Probably not, but that's besides the point. They've evolved into something else – an unparalleled live band. And if a new album every few years provides nothing more than an excuse to get the Foo Fighters touring your neck of the woods, then that's something we all should be thankful for.
Wasting Light goes on general sale today.