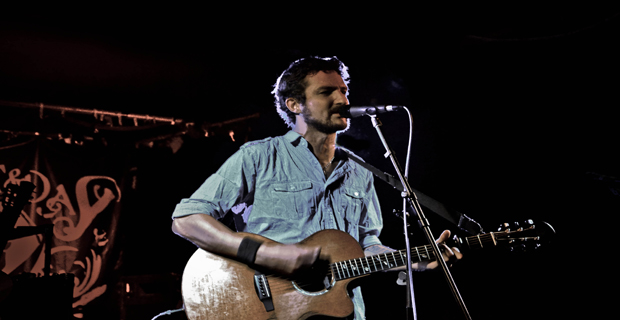 On the final date of his current UK tour, headlining to his home town crowd at Winchester Railway Inn, exactly one week before the official release of his fourth album, Frank Turner's England Keep My Bones was available to stream from the NME website. Frank has a devoted fan base already, with some dates of his recent tour selling out within an hour, and it seems that to them he can do no wrong. However any artist, especially one that has just performed his 1000th show in little over 6 years, must be striving for a breakthrough, and with album pre-orders matching those of a certain Sheffield band, this could be the one.
A noticeable progression from the band camaraderie ethos of Poetry of the Deed, Turner has enlisted the assistance of brass sections and gospel choirs, recorded in a church in Crouch End to produce a much fuller sound and a diverse album celebrating his self proclaimed love of England and Englishness. From the outset, Eulogy's brass introduction and emotive  lyrics are reminiscent of Love Ire & Song. Avid fans will recognise some of the tracks tried out in recent gigs and festivals over the last 12 months such as crowd favourites I Still Believe and Peggy Sang the Blues encouraging mass sing alongs, much like so many established Turner songs already achieve. English Curse strips away all accompanying instruments and exposes Turner's lone voice and passion for his country and its history, while Nights Become Days is the kind of sweet guitar music that has the power to silence a rowdy venue with its beautiful story telling. Fans will no doubt find some new favourites on this new release, One Foot Before the Other utilizing Turner's anger and enthusiasm that is so evident in his voice that he can convince all those who hear him to listen up and take note. There are certainly tracks from EKMB that will become a staple in his set, becoming part of the incredible energy that anyone who has been to one of his shows will testify to.
Edging away from the political label and into opinion on religion instead, the final track Glory Hallelujah's chorus repeating "there is no god, so clap your hands together" invites controversy and discussion, and reaffirms that if he is mistaken, he's definitely going to hell, but he'll have all the best stories to tell.
Words and photography by Midori Lumsden.