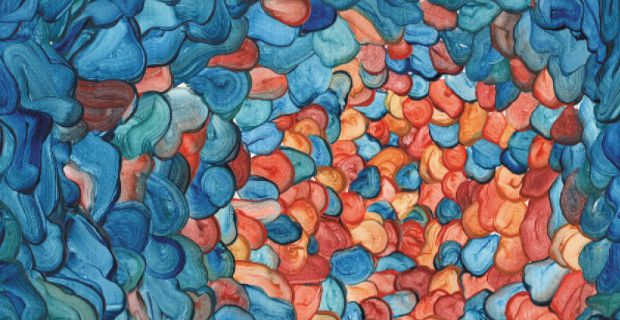 As the UK embarks on another sporadically sunny season, a new indie band will inevitably creep through to soundtrack the damp festivals, long evenings and hazy days that are coming to an end. Where some fall away with autumn though, Gengahr are a summer romance set to last.
In March last year, Gengahr emerged from North London with breakthrough demo Fill My Gums With Blood. Now after touring alongside the likes of Alt J and Wolf Alice, their debut album A Dream Outside is a reflection of over a year's worth of work that's seen them emerge from the side lines and become increasingly more of a mainstream concern.
From opener "Dizzy Ghosts" it's clear to hear what this album is about sonically; swirling chords, perfect harmonies and untreated soft guitars that you can lose yourself in for hours. Perhaps not dynamic at every twist but with headphones and a hangover, any emotional or physical journey will be enhanced by the mild psychedelia of it all.
Anthemic lead single "Heroine" has already plastered itself all over the radio in recent times. It's repetitive offers of 'sure you can be my heroine, all you need to do is wait for me' gives it that instantly recognisable quality. It jingles and jangles along before leaving you with an entirely pleasant sting in the tail as the band bare their teeth to lovely effect.
Don't be fooled entirely by the relaxed vibe of the debut though, as underneath the warm sounds are colder aspects that keep things from falling into twee or naive. "She's a Witch" is not a song you wish you were the subject of, as lead singer Felix Bushe sweetly croons 'I got a witch that cries all the time' over a Metronomy-esque soundscape. The dark lyrical themes juxtaposed with the almost jaunty sonics perfectly sum up their knack for delivering duality.
"Bathed In Light" is on the dreamier end of the Gengahr spectrum as the lullaby-like introduction evolves into an echoey minimalist that erupts towards the end. It's as soothing as it is unsettling but it all makes for an even more entrancing listening.
It's rare in 2015 to hear a collection of what are, to all intents and purposes, radio-ready pop rock songs given so much space to breathe and develop, as intricate drum patterns from Ward are followed elastically by Schulte's bass, and what would otherwise be perhaps easily-dismissed pop melodies are bathed in layers and layers of at time extremely aggressive guitars.
A Dream Outside offers ample proof of the theory that albums which sounds as though they were fun to make are often a joy to listen to. This is savvy, intelligent music.
Gengahr will play The Deaf Institute on October 16th.
Keep up to date on all the latest Northern entertainment news by following us on Twitter, Facebook and Google+.