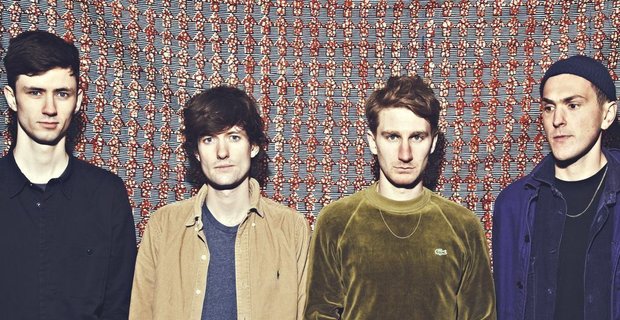 Oxford quartet Glass Animals has resisted being pinned down, from the multiple eclectic name changes the band has gone through to the "weird, psychedelic cocktail of electronic and organic sound" mixed with hiphop allusions that they produce, as well as their trippy music videos featuring vibrant colors and unexpected choices of creature (single Cocoa Hooves focuses on slugs, and the artwork is entirely vocalist Dave Bayley's own). The band , encompassed of Bayley, Joe Seaward, Edmund Irwin-Singer, and Drew McFarlane, have all known one another since school, and starting hanging out because of their shared interest in music (from Radiohead to Animal Collective) and attending local Oxford gigs together. An ambivalent post of early tunes to Myspace took off, and the band started touring off the success of this generated press straight after university barely a year ago. Their newest EP Gooey is produced by notable A&R mogul Paul Epworth, who has scouted the likes of Foster the People, Friendly Fires and Bloc Party, and Glass Animals were the first outfit to be signed to his new outfit Wolf Tone.
Gooey was released on April 7th, in anticipation of the band's debut full-length ZABA this upcoming June, and features five tracks, including two remixes and an aptly named 'rework' of title track 'Gooey'. Fans of earlier tracks from last EP Leaflets won't be disappointed, as Glass Animals keep the effortless cool that resides in older tracks like 'Black Mambo'. Although in a strange association, you wouldn't find Glass Animals' sound out of place in a rainforest, the odd and eerie distinguishing sound of the band neatly mixes this animalistic aura with references to modern consumer culture such as the 'peanut butter vibes' found in 'Gooey'. Gooey's lyrics also transcribe a provocative, dream-like and drug-laced world with inventive and evocative imagery such as 'tripping around the tree stumps in your summer smile', which appears as though it could be based in reality as the band are known to do much of their recording outside of Epworth's studio in a shed in the woods, adding to the mysterious allure they seem to cultivate.
Key to the new EP are the guest vocals of Chicago rapper Jean Deux on 'Rework' (a rework of Gooey featuring contributing verses from Deux) and vocals from breathy Brooklyn pop artist Tei Shi on 'Holiest'. Glass Animals began with members creating and mixing tracks for a myriad of vocalists, and therefore these collaborations make sense, as well as add to Glass Animals' miscellaneous sound. It's rare form these days to find artists who actually create completely distinguishable tracks while retaining an identity, but Glass Animals are an exceptional breed.
Catch Glass Animals at various metropolitan festivals in the beginning of May such as Liverpool Sound City and Great Escape Brighton, both havens for up and comers, as well as a UK headlining tour in Bristol, Leeds, London and Manchester in late June, in conspicuously more intimate venues than their last appearance as main support to St. Vincent this past February.
Live: 
20th June – Belgrave Music Hall, Leeds 
21st June – Ruby Lounge, Manchester 
Words by Ruby Hoffman.
Be sure to 'Like' us on Facebook and Follow us on Twitter to keep up to date with all the latest Northern music news!