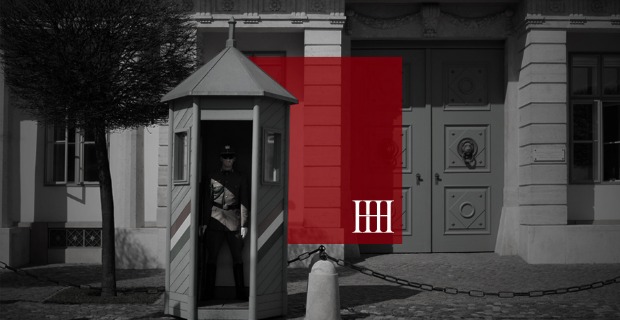 Harthiem are a band that have eschewed modern online promotion in favour of a nearly non-existent online presence consisting of a single video and a trio of taster songs on Soundcloud. Despite this, their dark grimy music (comparable with Death Cab for Cutie) has been garnering attention around their hometown of Manchester with their dangerously long debut single "Yellow" and then the following track, "Nothing Is Wrong" and latest installment "Welcome To Harthiem".
The five-piece strong band make no effort to stick with conventions – their apparent catch phrase (and a lyric from their single) is 'your god has so much to answer for' and their first single is a brave six minutes long. There's not even a veiled attempt at a commercial pop song here – these guys are sticking to their alternative guns. Not to mention they took their name from the 1600's Renaissance masterpiece Harthiem Castle…which later was refitted as an asylum, then a pre-Holocaust euthanasia centre. It's not cheery stuff but it's a failing of man's great plans and a darker side of nature that the band embrace in their music.
Take for example their first release, the marathon length "Yellow". It's an eerie atmospheric track and a twisted, detached take on heavy moody pop music. It resonates with a slow dark beat and straining drawn out lyrical references to loss, addiction, disease and fading faith in good will and is set against a video of complied film clips from the band's favourite works of gloomy or disturbing cinema. If you're into happy music, this really isn't going to be your thing. Next in line is the louder, faster and much more rock-y "Nothing Is Wrong", which brings twanging guitar and rough vocals to the front and relegates the otherworlding synth accompaniments to a more background role. Building drums carry the song to an off-kilter discordant chorus and the lead singer shouts his frustrations to the world.
Finally there's "Welcome To Harthiem", which starts gentle with chiming opening notes and ghostly harmonies and then quickly breaks into a dark alt-pop rhythm as the vocalist calls out with increasing intensity that 'they' have come dressed as wolves. The pulsing guitar rhythm drives this track and makes it probably the best the band have yet to show in terms of technical song-writing – and also in terms of vocal range. It's a loud dirty accusation of who knows what but the sharpest and also the shortest of the band's tracks to date. Also worth a mention is the remix of "Yellow" by another Manchester local – producer BLCK LNG, which takes the song and distorts it to create a demonic choral effect, stripped back to a more pronounced underlying beat and the same rising atmospheric power.
Harthiem won't be to everyone's taste but they do strike a chord and approach their music with razor wire intensity and a deep-seated authenticity. This is not a band that will compromise on their ideas or on the music they want to create, and considering the buzz they've managed without even a website to their name, they don't look to be going anywhere soon.
Words by Conori Blue (@ConoriBlue)
Keep up to date on all the latest Northern entertainment news by following us on Twitter, Facebook or Google+.