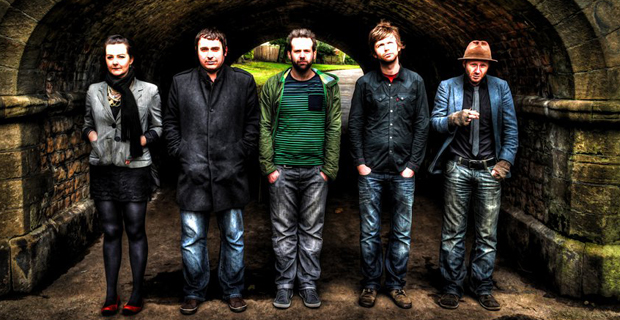 In The Depths is the debut album of Nottingham outfit HHhymn and it is, quite simply, superb.
 It is natural to be sceptical of reviews that sing the praises of an album as they frequently lead to disappointment, but this is a record truly deserving of the good press it has received.
 It's difficult to put your finger on exactly why HHymn's music draws you in but that is exactly what it does. You will literally have it on repeat. On the first listen opening tracks scream of Fleet Foxes and Mumford & Sons with bare vocals and simple but effective guitar and brass accompaniment. However, as the album progresses an array of styles and instruments develop which lead you from the soothing English folk of Not Before I Go through to the upbeat multi-faceted tones of Behind the Sun , which would not look out of place on a Radiohead album.
 Halfway through Not Before I Go frontman Ed Bannard asks you to "Come down from your high horse; see what this love will bring". This is something to which we can all relate, asking someone to get off their perch, bring a change of clothes and just enjoy life's experiences, and it is this mixture of heartstring lyrics and yearning musical accompaniment that makes this debut such a success. This is music to get lost in. Music which provokes thoughts and feelings which you thought you'd suppressed as a greasy teenager sat on a park bench watching unattainable members of the opposite sex walk by.
 It is in this sense that the use of trombone in Slow Life provides an unexpected highlight. The lazy warmth of the instrument perfectly portraying the way in which life can sometimes drag its feet unnecessarily, leaving you with far too much time to think about things you don't really want to be thinking about. Slow Life represents all those people sat at a bus stop in the rain with nothing in front of them but a mind-numbing journey home.
 By the time you reach the final track On My Mind you've heard 11 songs of equal measure. It is difficult to pick out a standout track for this album, as they each bring something different and enticing to the table. This is a rare quality. It is an infrequent occurrence to not feel the need to use the skip button when faced with annoyingly average album fillers but this is an album that pleases from start to finish. In the press release for In The Depths it is described as a "record with enough gravity to pull at all but the heaviest hearts". This is an accurate summary of an emotional album which is a pleasure to listen to. If this does not prove to be one of the best albums of 2011 then the standard this year will have been exceptionally high.
Words: Steven Baldwin