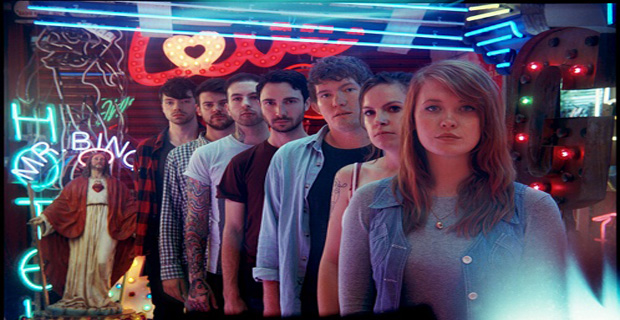 Armed with an array of instruments including a horn, violin, and a glockenspiel – Los Campesinos! have fully justified their exclamation mark. The seven-piece have built a reputation for making swashbuckling indie-pop with a penchant for thought provoking yet futilitarian lyrics, which take a sceptical look at love, youth and life itself. Just a few weeks before recording this new album, frontman Gareth broke up with his girlfriend – turning 'Hello Sadness' into the most vivid journey into the heart of darkness the band have so far undertaken. Simon Butcher explores…
'By Your Hand'
The opener fulfils promises of a more direct album, with a fully-fledged snappy choral chant hooking listeners in before things breakdown to make way for Gareth's familiar delivery. He begins positively, in keeping with the up-beat instrumentation, "we were kissing for hours, with her hands in my trousers", but it's not going to last. "Here it comes, this is the crux/she vomits on my rental tux," he utters. Shucks.
httpv://www.youtube.com/watch?v=_ku_ZMPJ5M0
'Songs About Your Girlfriend'
This next song is an aggressive, high-tempo, guitar propelled rant aimed at the boyfriend whose girl is beginning to wander: "All her friends agree, on her soft spot for me. I'll have my hard hands over her soft-spot soon, you will see". It seems the man who declared love to be pointless during the second record's title-track, 'We Are Beautiful, We Are Doomed' is at least having fun at the thought of inflicting misery on someone else…
'Hello Sadness'
This is an outpouring of self-pity as a fleeting phase of happiness comes to a close – perhaps autobiographically written, after his own break-up, here you will find some of the most impassioned, touching lyrics on the record. The famous line from Alexander Pope's philosophical poem, "hope springs eternal", sits alongside imagery of a broken heart which will never run dry, giving a new context of despair. It's bleak stuff.
httpv://www.youtube.com/watch?v=-V5SiMKkZrs
'Life Is A Long Time'
"It starts pretty rough and it ends up even worse," is the repeated chorus here – life's a bitch. This is a long, contemplative look in the mirror for Gareth. Post break-up, he examines the furrows of his ageing face and compares them to those of another woman. "My brown eyes are two pools of mud resting in two dark moons," he mourns, while her "blue eyes are like the deepest and the warmest seas". "There's cartography in every scar," he explains while assessing the baggage picked up over the years.
'Every Defeat A Divorce (Three Lions)'
In their precocious early days the Campesinos! live energy was difficult to transfer into the studio as each instrument fought ferociously for space. 'Every Defeat A Divorce (Three Lions)' is an example of the more smooth, accessible angle they've cultivated working to full-effect. New member Jason kicks things off, adding vigour to the melancholic vocal delivery, but a pop-friendly crescendo awaits, with new member, Kim, joining in with hushed backing tones.
'Hate For The Island'
A single guitar plays an emotive riff as the violin bellows low sliding atonal wrenches. 'Hate For The Island' clocks up just over two minutes on this ten track album, but carries as much gravitas as the others. It's a darkly nostalgic longing for a lost friend who is buried six-feet-underground. "Those entrails are how I feel when you decide to leave me," is just one of the stark images depicted.
'The Black Bird, The Dark Slope'
Obviously psychiatrists would have a field day analysing some of the lyrics on display in this album and this track is no exception. Things begin with a description of a blackbird standing on top of Gareth's body, feasting upon his guts before flying away. His sister Kim then describes the blackbird's flight into a dark slope. This all takes place over some hostile drumming from Jason who dominates the mix with fierce hi-hat hits.
'To Tundra'
Things take a tranquil turn here, a two chord guitar riff commences with languor, and vocals take a less frantic approach. It's a minor moment of rest-bite which could become a camera-phone in the air segment of any future live performances.
'Baby I've Got A Death Rattle'
'Baby I've Got A Death Rattle' is bustling with ideas and metaphors, another great example of Los Campesinos! at their best. Gareth goes to a palm-reader, but of course, he burns all the skin from his hands first – no life-line that way. The belief in an ill-fated existence is celebrated here with glockenspiel and violin creating a real light-hearted party atmosphere – never has being miserable been so much fun. "I've been digging my grave for quite some time when I'm not digging up the past," sings Gareth until the band sing a crescendo about headstones and headboards which is impossible not to sing along to.
'Light Leaves, Dark Sees pt. II'
The final track plays light and dark against each other in a last hoorah of gloominess. "I enter the abattoir to see my insides hanging there/but they request that I leave coz my sad eyes are too much to bare," sings Gareth – perhaps one of the most cynical lines ever written. The rest of the group further articulate his grief by chanting some of the more pessimistic lyrics for added emphasis. Musically guitars twang and drums crash, giving a real blues feel. What else could be appropriate for such an outpouring of pain? Hello sadness indeed.
httpv://www.youtube.com/watch?v=Nj6SO_yKMe8
Words: Simon Butcher