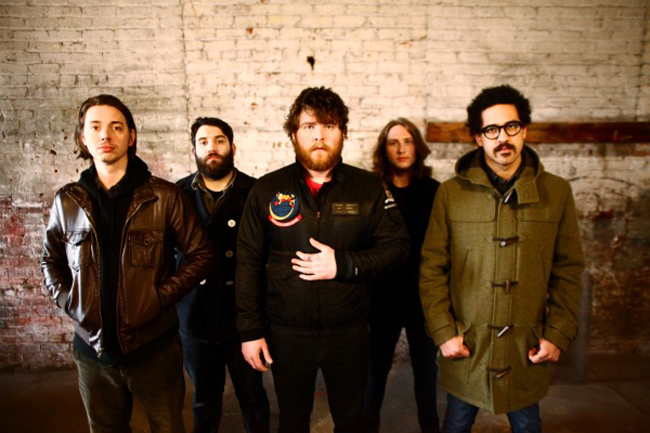 So far Manchester Orchestra have produced albums like temper tantrums.  Their 2006 debut I'm Like A Virgin Losing A Child was a slowly stewing, intimate affair.  Their sophomore release Mean Everything to Nothing: a scream through gritted teeth. Their third and most ambitious collection of tracks Simple Math changes gears. It's a brutally honest reflection of records one and two, dissecting their story so far – from the state of the band, to their personal lives – all filtered through the mind of their bearded bold leader Andy Hull.
A concept album stemming from a three-hour argument between Hull and his wife, this ten-track journey plays frank and straight faced. "Half a year and here we are again, I'd go out in public if nobody ever asked" sings Hull in opening track Deer, addressing fans directly and without hesitation before commenting on a proviso from new found success.  A hymn that jumps from optimism to criticisms, blurring the line between the very public and the very private and cutting straight to the chase.
Mighty recaptures that fiery spirit the band has perfected, garnished with Hull's intense vocals which always seem on the verge of emotional fracture. Meanwhile, Pensacola is a playful jibe at the relentless nature of band life, unravelling as franticly as the bands 2011 tour schedule (complete with a brilliant mid-song chant) and making you fully believe Hull when he declares: "I've got that rock and that roll!" in follow up track April Fool. Lord knows, the band has plenty of experience under its belt.
Religion, a common theme throughout Manchester Orchestra's work is again present, with Pale Black Eye questioning the ever-changing role of faith. "Goddamn I'm tired of lying…I wish I loved you like I use to" pleads Hull, placing these vocals atop a rising guitar thud. Virgin contemplates the loss of innocence with the band constructing a crashing sound-storm behind Hull's chants of "it's never going to be the same!" while title track Simple Math provides a sombre aftermath and milestone in the bands song writing talent.
Easing of the gas a little, Leave It Alone depicts the effects touring can have on a relationship, with a weary Hull speaking directly to his wife. "If we end up alone, a plague on my head and a curse on our home" – a touchingly optimistic sentiment.  Rounding things up, Apprehension is a solemn take on the unpredictability of future events while Leaky Breaks presents a band evolved, starkly different to the one you thought you knew.  This journey has equipped them with a fully formed maturity and the knowledge that things wont be the same after this. That's nothing to worry about though, Simple Math is hard proof that Manchester Orchestra can handle anything swung their way.
Simple Math is released May 10th