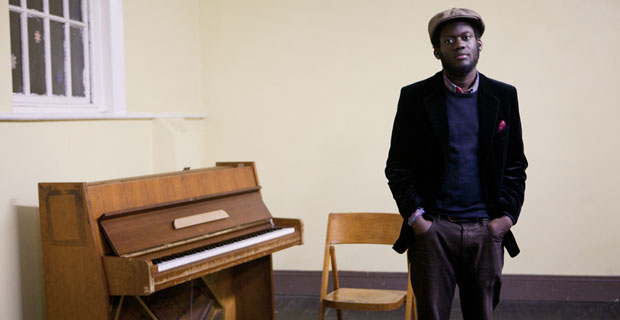 While listening to the title-track of Michael Kiwanuka's debut EP, Tell Me A Tale, you could easily be fooled into thinking that this was a rare vinyl from the early '70s, covered in dust at the back of an independent record store, waiting to be discovered. Those who are finding his music for the first time are beginning to notice a timeless talent. At 23-years-old, this North London resident has a voice which holds more gravitas than his youthful age suggests.
Kiwanuka was inspired to pick up the guitar by Jimi Hendrix, a figure he identified with while coming to terms with life in England as the son of Ugandan parents. During his teen years two more iconic figures shaped the sound. Firstly, Bob Dylan's song-writing and immediacy of delivery had a huge impact, as did Otis Redding's soulful voice and use of brass arrangements.
After building a following while playing a series of small London shows, Paul Butler of The Bees invited him to The Isle Of Wight to record. The new EP is a result of these sessions, in which an assortment of backing musicians brought his vision to life. The title-track closely counts Otis Redding's influence, with lush melodies providing the backdrop for his weighted delivery. I Need Your Company sways elegantly into Marvin Gaye's Motown territory, while Worry Walks Beside Me is a piece of heartfelt blues. As if harking back to so many era defining genres wasn't enough, the video below further places Kiwanuka in an earlier context, with its frozen in time feel.
Words: Simon Butcher
Other News:
Slam Dunk Festival Preview
Warpaint Live At FutureEverything Festival
Interview: Johnny Rotten