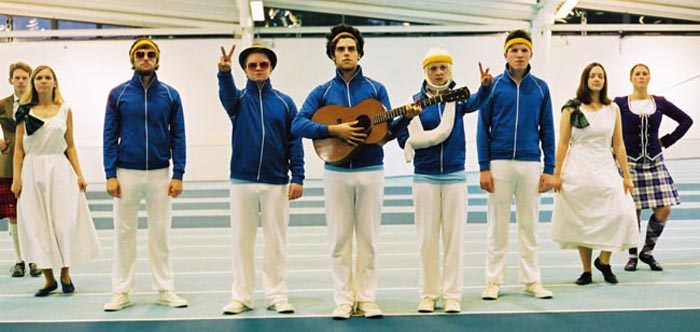 Disappearing into the recording studio for a third time, Noah and the Whale have finally resurfaced with their new album Last Night on Earth, which went on general release on March 7. Signalling a sharp u-turn in the band's musical precedence, this latest offering is suitably mellow with sporadic bursts of radio-friendly tracks, most notably the band's current single 'L.I.F.E.G.O.E.S.O.N'.
Having been around since 2006, the London troubadours have steadily coasted along enjoying relative success but never hitting the big time, while Mumford & Sons and Laura Marling (previous band member/other half of frontman Charlie Fink until she moved onto Marcus Mumford) have been the toast of the recent nufolk revolution.
At the helm of Last Night on Earth remains Fink's natural ability as a storyteller and master lyrics man, but confusion arises as to the band's new musical direction. Are they now a happy-go-lucky indie pop band? Compared to bands 2006 offering it certainly seems so. Despite being a heavy lyrical collection of Fink's heartbreak over Marling, there was no denying the emotional drive and beauty of 'The First Days of Spring'.
While Last Night on Earth is a cohesive blend of upbeat tracks panned across 33 minutes, it seems unfortunate that it is over just as you think it is finally getting going. Some audible similarities to Josh Ritter and Brandon Flowers can be drawn on the tracks 'Just Me Before We Met' and 'Wild Thing' as Fink tries out some country tones.
Some gospel accolade must be given for 'Old Joy', a boisterous track which without doubt is the stand out moment of the record.
Currently doing some gigs across the UK and mainland Europe, a more extensive tour on home soil is kicking off at the beginning of May. Perhaps Noah and the Whale can do the Last Night on Earth more justice in a live setting.
Check out Noah And The Whale's Myspace page right here. 
Words: Aoife O' Connor
UK Tour Dates.
May
3 Manchester Ritz
4 Leeds Met
5 Edinburgh Liquid Rooms
7 Sheffield Leadmill
8 Dublin Academy
9 Liverpool Stanley Theatre
10 Portsmouth Wedgewood Rooms
12 Bristol Trinity
13 Birmingham HMV Library
16 London Roundhouse
17 Nottingham Rescue Rooms
18 Cambridge Junction