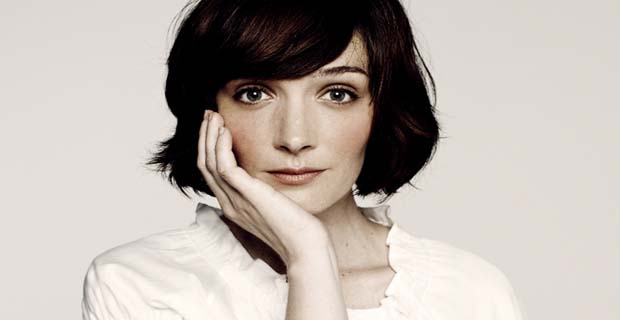 "It's really very straight forward," explains Aussie singer-songwriter Sarah Blasko, "you could imagine we're in a tiny, smoky old piano bar and it would probably be close to the sound we're trying to achieve."  This mental image is constructed with the forethought of a filmmaker, but in reality it's referring to her latest EP, Cinema Songs.  It's pretty clear that vision, as well as melody, are deeply ingrained into the soul of this alt-folk lady.
Chasing the release of her glowing debut As Day Follows Night, Cinema Songs is a short but sweet glimpse into Blasko's fascination with movie music.  It's an inspired selection of tracks.  Blasko is careful not to give each song a complete facelift – she doesn't need to. Her soothing vocals and angelic piano are more than enough to bring them up to speed.  It's these qualities that capture the perfect balance of bittersweet happiness and regret in Seems Like Old Times from Woody Allen's Annie Hall.  A track that sets the scene for things to come as well as any movie opening scene.
The Sound Of Music's Something Good is given a haunting resonance thanks to Blasko's gentle voice and haunting piano, while the grandeur of Cabaret's Maybe This Time is transformed into an intimate affair.  The inspiration a young Blasko gleaned from a childhood watching Fame is clearly channelled into her uplifting rendition of Out Here On My Own.  It's a sombre and pensive track, clearly drenched in personal importance for a singer destined for big things.
A swift change of pace leaves listeners on a high thanks to an uplifting  cover of Olivia Newton John's Xanadu, proving that musical gems can indeed be found in the most unlikely of movies. Blasko steals the breath with her stripped down interpretation, a sweetly executed arrangement that'll leave you wanting to hear much more of this multi-talented artist.
Words by Simon Bland.