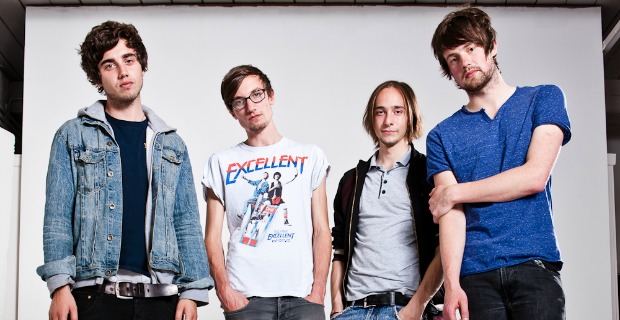 Manchester four-some Shines' debut album Nothing Like Something Happens Anywhere is a hazy ode to the existentialism of having out-growth youth, but not quite reached adulthood. It's a love letter to days of irresponsibly wasting time doing the times that can be looked back on with nostaligia or regret.
A blend of shoegaze, lo-fi pop and a touch of rock, krautrock and post-punk, short album of only nine songs. First up staticy intro "Ponoma", named after a bit of empty industrial estate to the edge of Manchester, and title track "Nothing Like Something Happens Anywhere", a name openly pinched from a literary poem. This track sums up the new sound and direction Shinies have taken in this album – it's very dense and complicated, quite intellectual even in it's youthful focus, and very heavy, droney and loud.
Some songs – like the following tracks "de C" and "Beached" are more indie rock and krautrock/post-punk influenced respectively. The former has a tight snarling guitar lead while the latter relies on loud crashing guitar and breathy vocals. Right in the middle of the album is the very bold, very loud, very hard-to-listen-to-without-a-bit-of-a-headache "Soak".
This is a wave of noise. Drowning, soaking, saturating and altogether overpowering. It will appeal to fans of lo-fi dream pop or shoegaze who are looking for something a bit harsher, but it won't be everyone's cup of tea. "Waves" builds to a similar cresendo, but starts of more rhythmic and like and slow electro-pop track with a bit of shoegaze thrown in.
Next track "Spent Youth" is actually one of the frist songs the band ever wrote together, way back when in a basement or garage in Manchester somewhere. It's rich with the themes of youth and frustrated acceptance of past mistakes (or revelries) that flow through the whole album. And it's a nice couplet for the following track, "Sixes and Sevens", which boasts the catchiest riff of the album.
Themematically similar to its predessesor, "Made to Waste" is a open letter to the youthful generation, telling them that "it's okay to waste your youth, that's what it's there for." It's not the most positive of message, but this isn't the most positive of albums. However, there's a hopeful glimmer there at the end of the tunnel.
Overall, this album is a tad laborious, overly dense and straining for an intellectualism and cynicism that comes of a little self-indulgent… but it's a bold debut. There's a clear development of sound and a confidence and clarity of ideas throughout the whole album that's impressive in and of itself.
Keep up to date on all the latest Northern entertainment news by following us on Twitter, Facebook and Google+.