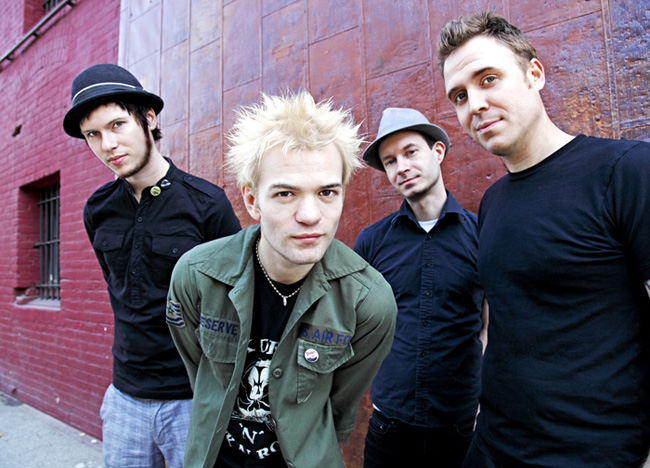 Sum 41. Where to start? Pop punk wouldn't be as it stands today without these Canadian misfits. They were one of the first bands to push the more raw side of pop punk into the mainstream with Fat Lip a still perfect example of how the genre should sound. It came from All Killer No Filler a very aptly named album. They had huge success in the early noughties with two great records and sell out world tours – even headlining the MEN.
Album number three, Chuck, divided the fans. It presented a much heavier sound; clearly paying tribute to the 80's metal bands that had inspired them to form yet seemed a world away from the catchy hooks of Motivation. Album number four, Underclass Hero, was critically panned resulting in a loss of momentum and fans. Thankfully the guys seem to be back on track with their latest, Screaming Bloody Murder.
Gone are the catchier, cleaner pop sounds of Underclass Hero and brought back are the distorted guitar driven hooks, blisteringly fast drums and catchy sing along choruses.  The title track Screaming Bloody Murder is a great example of this and the reason it's been adopted as the album's debut single.  Opening with the tried and tested 'fake-out' of light piano and vocals, slowly rising with muted drums and a solitary guitar before breaking out into a full-on wall of sound that would fit perfectly on their 2002 album Does this Look Infected?
There are a few surprises such as Baby You Don't Wanna Know a very clean indie song and Time For You To Go a radio-rock song. Jessica Kill is the best song on the album. An energetic and angry song with a chorus line that is eerily similar to Still Waiting. Skumfuk has all the parts of a classic Sum 41 track except it takes over a minute to start, featuring a drawn out piano riff and almost techno bass line behind front man Deryck Whibley's clearly emotional vocals. When it finally does kick in it's an aggressive, fast paced track that'll having you believing the band have recaptured their early sound.
Unfortunately, that's the album's ongoing theme. Some great moments from the grandfathers of pop punk showing how they influenced a generation, lost in unnecessary piano ballad sections and songs that are uncomfortably long. Add to that numerous songs that stand as Deryck's platform to announce his heartbreak and subsequent getting-over his divorce from Avril Lavigne (What Am I To Say and Crash) and we have a mixed bag of an album. Sum 41 are on the road back to brilliance. It might just take another album or two.
Words by Steven Kenney
Keep up to date with Sum 41 here.