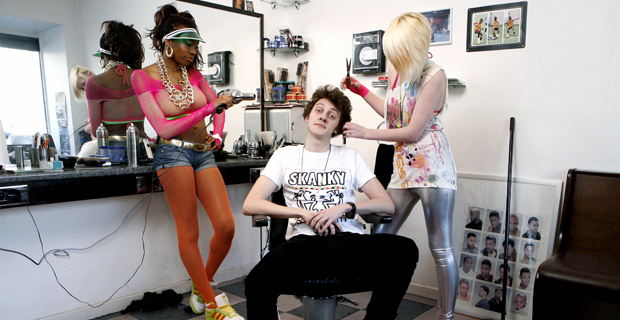 Sheffield based beat producer, Tom 'Toddla T' Bell, has returned with an album that would nestle safely into most dance-pop music lovers' iTunes library. Just don't ask me which genre it should go under because after listening to this  it felt like I had travelled from a rave to house party into a club and ended up on a sunny Jamaican beach. Not a bad journey really is it?
Watch Me Dance is an impressive step forward for Toddla who gets a helping hand from the likes of Roots Manuva and Ms Dynamite amongst others. There is a huge reggae influence that oozes through this album and if you're a fan of dancehall beats with vocals that are auto-tuned up to the eye balls, then you will certainly enjoy Toddla's latest offering.
There's more to this record than a few Rastafarian romps, however, as there is something for almost everyone. The album opens with the title track, Watch Me Dance, a brilliant loose electro funked out ditty featuring wicked vocals from Roots Manuva. Cruise Control is another highlight as it joins a solid garage with a jungle beat, then come the next single, Cherry Picking, with the inimitable Roison Murphy riding a bleeped out dubstep dancehall groove with a pop twist. She brings it home with a nice bluesy tone balancing the intense electronics.   Streets So Warm is also worth noting simply for its Carribean dance sound that would rival anything fellow dancehall influenced producer, Major Lazer, could conjure up.
Overall, Watch Me Dance, works exceptionally as a proper album, not just a collection of songs, perhaps even better than Toddla's debut album, Skanky Skanky. It's all proper speaker bothering sub bass workout, equally at home in your car, on your headphones, or blasting out on a full on soundsystem in a dirty dark club somewhere near you. In an admirable move he's resisted jumping on the bandwagon to ride the Dubstep wave and furrowed his own ground, hopefully setting a trend for a more varied and diverse approach that will surely be pumped into nightclubs worldwide.
Words by Ashley Clements.