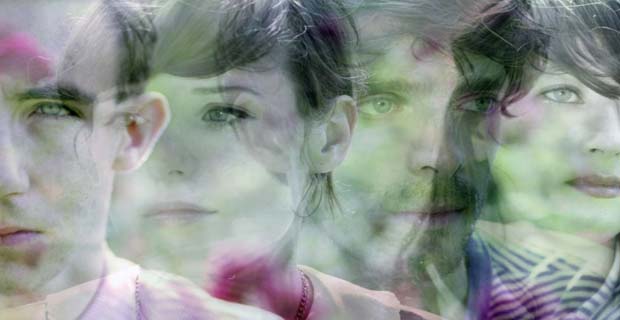 Veronica Falls are set to released their self-titled debut this month. Having been touted as the UK's answer to the likes of Vivian Girls and Crystal Stilts, Roxanne (vocals, guitar), Marion (bass), Patrick (drums), James (guitar) have asserted their own identity with this 12-track offering, an album that walks an emotional tight-rope between hope and despair. Simon Butcher walks us through the emotions…
'Found Love In A Graveyard'
Mournful strums set the melancholy tone from the off, before things speed up to a frenzy of a bridge and launch into a full-fledged pop chorus with grave connotations. Juxtaposed within the melody are naïve, childlike ideals of love and apathetic flirtations with tragedy. Roxanne Clifford's prelapsarian lyrics feign innocence, pertaining to the C86 movement, whilst being complemented by the signature guitar jangle.
'Right Side Of My Brain'
The mixture of macabre and twee continues here with pulsating propulsion. Guitars jolt into action. Surf-pop harmonies make for a Shirelles-alluding chorus which fits with their quaint aesthetic, while an undercurrent of mood-laden post-punk foreshadows doom. In 'Right Side Of My Brain', optimism blends with pessimism, light with darkness.
'The Fountain'
Tender plucks of strings and ethereal howls give way to a quickening drum beat and colourful images of hauntings, memorial fountains and wilting flowers. You get the picture, and it's a bleak but brilliant one.
'Misery'
As if we didn't know already, the group sing in harmony –'Misery, it's got a hold on me' – but in such a disaffected, care-free way that you'll be humming along without fully realising the fully-intended gloomy nature of the lyrics. Elevating guitars begin things nicely and a cheerful, uplifting feel pertains throughout with a barbershop quartet vocal style to match – if it wasn't for the contrasting title giving things away, this would an evocative beach-pop tune.
'Bad Feeling'
httpv://www.youtube.com/watch?v=1_SlRqk48LQ
Subtle sepulchral howling colours this track, while Clifford sings in dulcet tones 'I've got a bad feeling', similar in style to The Drums' uplifting pop-darkness. Shades of Vivian Girls come across, yet the brooding intensity is definitely their own. Reverberating guitar solos and racing strums give this a Spanish flamenco feel, while a bubblegum-pop sing-along chorus contrasts.
'Stephen'
Many will be familiar with this one – the B-side to their first single which came out on Captured Tracks. It's a quaint, light-hearted moment sticking out like a sore thumb as being a straight up missive of idolisation for 'the king of everything', with no trace of irony or sinister undertones.
'Beachy Head'
httpv://www.youtube.com/watch?v=4WY-Iin7P_w
This is by far the best moment of the record, emanating attitude from the outset. It's a brazen and unapologetic retro attack complete with café-diner riffs and reverberating bass slaps. A song about suicide – what else could we expect – depicting the rolling sea at the bottom of the cliffs. The track fittingly contains harrowing waves of melismatic low tones from the male members, inducing a menacing, yet undeniably fantastic state of eerie trepidation.
'All Eyes On You'
The closest things come to a '60s nostalgia trip, this one begins with saccharine jangles and whispered harmonies. The hushed, husky vocals float in-and-out of flowery rhythms – a complete contrast to the previous track.
'The Box'
Beginning with a strong kick and snare, 'The Box' immediately stands out on this album. Added next is a baseline reminiscent of that in 'Christine' by The House Of Love. This is one of the shortest tracks on the album but is a real highlight, pushing things into new, less morbid territory. Clifford's vocal style even seems akin to Blondie here.
'Wedding Day'
A great song to send in response to a wedding invitation if you can't be bothered to go. 'So sorry I missed your wedding day', sings Clifford in an almost scornfully mocking way. It might not be the best thing to send the day after you jilted a prospective bride at the church, but it's undeniably a great slice of indie-pop. 'You don't look at her like you're looking at me/ She'll never know, that's the way it will be' – You have to wonder how many people's weddings this could have secretly sound-tracked…
'Veronica Falls'
An intriguing slower effort. This one starts much like Joy Division's low-tempo classic, 'Atmosphere'. Bass rhythms mirror Peter Hook's definitive sound. Such an iconic post-punk anthem provides the perfect backing Clifford's hushed, solemn vocals.
'Come On Over'
httpv://www.youtube.com/watch?v=bE6BFAwzwLU
The closer gets off to a slow start but this is the calm before the storm. The purposefully languid vocal style of Clifford even breaks here with yelps of 'hey!' finding their way in. The final track builds into a frenetic pace, with shredding strings, expelling all remaining effort, before lulling back to the tranquil place from which it came. 'Come On Over' hints at all previous aspects of their sound as well as adding a final vigour – then it's time to press play again…
Words: Simon Butcher (originally written for The Fly)