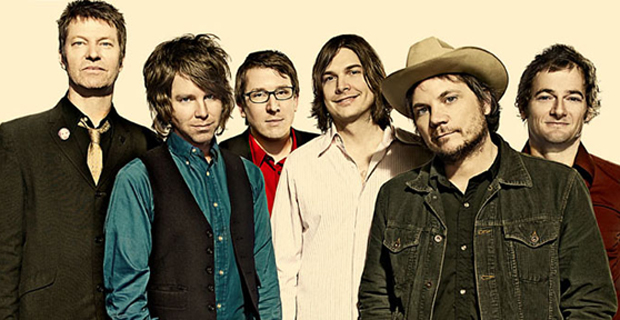 For a band as difficult to pigeonhole into a particular genre as Wilco, Jeff Tweedy's Chicago collective have managed to accrue several tags over the near-twenty years the band have been in existence.  They have been described as alt-country, 'the American Radiohead', and even won appreciation for their dalliance in traditional American folk music with two albums of Woody Guthrie songs, recorded with Billy Bragg.
Formed by Tweedy in1994 after he and Jay Farrar decided to disband Uncle Tupelo, their band whose three albums saw them pioneer and define the 'alt-country' sound, the group was originally made up of Uncle Tupelo alumni, and their debut, the rootsy AM, saw little sonic divergence from the sound of Uncle Tupelo's genre-defining records. That Tweedy and bassist John Stirratt are the only musicians left of the original line-up of Wilco goes some way to explaining the band's subsequent adventures in sonic experimentation and genre-bending. The late, great Jay Bennett's fingerprints were all over the intricate arrangements of songs such as Pieholden Suite on 1999's Summerteeth, whilst both the personal and post 9/11 political turmoil of Jeff Tweedy's world seemed to be inform the band's dense fifth record, A Ghost Is Born, an album that saw the group experiment more extensively with Pro-Tools, electronic noises and synthesisers.
 With this in mind, it can be suggested that Wilco's last effort – 2007's excellent Wilco (The Album) – was an attempt by the band to define just who they are, and what they sound like, on their own terms. From the declamatory, defining title of the record, to the album's meld of styles – from the Big Star power-pop of Wilco (The Song) to the George Harrison homage You Never Know, through Bull Black Nova with its electronic squeaks and squalls – Wilco (The Album)  saw the band offer a little of everything that over their career to that point they had done very well.
Fans of Wilco will be pleased that The Whole Love sees the band building upon the formula established with Wilco (The Album). For fans of Wilco's experimental proclivities, there is the seven-minute Art of Almost that opens this Patrick Sansone and Tom Schick-produced album. Encompassing irregular rhythms, lyrics about 'wastelands' (literal, and of the heart), Tweedy's characteristic vocal delivery and a descent into a Crazy Horse-style guitar wig-out to finish the song, Art of Almost provides an exhilarating start to the band's eighth album. No sooner has the face-melting denouement of Art of Almost drawn to a close than the listener is offered the jaunty pop of I Might, a song that precedes the more melancholy and contemplative 'Sunloathe'.
 The band's desire to meld their pop sensibility with their willingness to experiment and challenge the listener is perhaps best exemplified on Dawned on Me, a song that in the space of fifteen mid-song seconds sees squally electric guitars merge seamlessly into a whistle-solo, before the band return to a chorus whose instrumental backing would work delightfully soundtracking football highlights on MOTD. The song is catchy and buoyant, and can be filed alongside A Shot in The Arm, Monday, and I'm The Man Who Loves You, in Wilco's collection of 'pop' songs. However, affairs of the heart seem to inform the eerie melancholy of Black Moon, with its subtle slide-guitar washes accompanying a delicate, relentless guitar line and Tweedy's lyrics of 'crawling over the black dunes/ and I'm waiting for you'.
 The Whole Love is an album whose subtle touches, both musical and lyrical, reward repeated listening. On the band's previous album, Tweedy sang 'Wilco will love you baby' on its opening track, Wilco (The Song). This sentiment has been expressed eloquently in a collection of songs whose sound derive from all the disparate elements that have constituted and characterised Wilco's output to date; fans of Wilco will be delighted with record, whilst there is plenty to admire for those new to Tweedy and company.
Words: Christopher Herbert