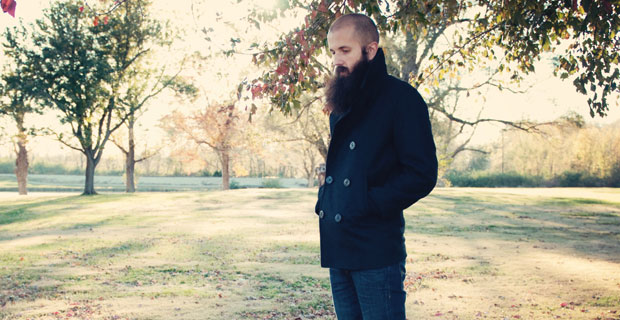 To say that there are too many acoustic folk artists vying for the world's raucous applause is probably true. But on those rare occasions when stand-out artists like William Fitzsimmons come along, the bar is set very high and all earthly praise is well earned.
 A man with a beard, a fine beard at that, is behind the hauntingly beautiful Gold in the Shadow, whose twelve tracks are a gift of aural pleasure for the listener.
Not a newcomer to the scene, Fitzsimmons recorded and self-produced Until We Are Ghosts and Goodnight in his Pennsylvanian home back in 2005 and 2006 respectively. Going through an intensely cathartic process for all of his songwriting efforts, Fitzsimmons does not hold back on the intimate and the personal.
A qualified mental health therapist, he worked with the mentally ill for a number of years before embarking on a journey into the depths of his innermost feelings, dating back to his childhood memories and years of teenage angst as his parents went through a divorce. The breakdown of a once great love was something he would experience himself in later life and his last album The Sparrow and the Crow in 2008 saw him reflect on the breakdown of his marriage of almost ten years.
The very therapeutic nature of William Fitzsimmons latest album Gold in the Shadow suggests that this is a man who has finally laid his personal demons to rest. Debuting at #3 on the Folk Album Charts, the initial response has been wholly positive to the record.
Delectably rich folk music accompanied by a pick 'n' mix of instrumental harmonies and female vocals on select tracks makes Gold in the Shadow a 'forget your troubles' record. It is clear that life has once again been injected into the man behind the lyrics. William Fitzsimmons, a mesmerizingly talented musician whose ability to be so in sync with his own emotions is an acoustic diamond.
His naturally soothing voice evokes a calming effect and it is impossible not to listen to the album in its entirety before putting it on repeat. To select one or two favourite tracks is a difficult task, but Tied to Me and the electronically infused Psychasthenia are this girl's favourite. Perhaps it's the air of an encroaching summer that makes William Fitzsimmons sound just so perfect.
Words: Aoife O'Connor
Below is current single The Tide Pulls From The Moon
Other On Repeat Albums
Foo Fighters – Wasting Light
Sum 41 – Screaming Bloody Murder
Daedelus – Bespoke