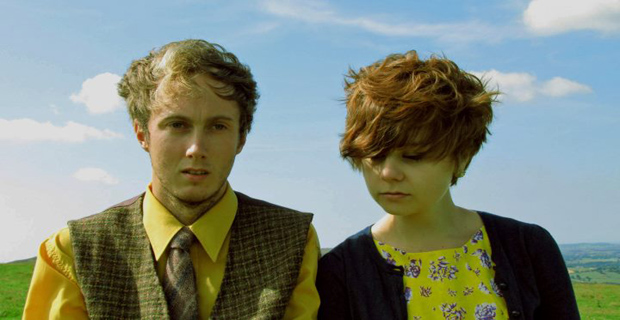 Next week we'll be bringing the spectacular Golden Fable to Manchester's cosy Kraak Gallery. You may have heard of this talented twosome before – Radio One and 6 Music regularly sing their praises and during the last few weeks they've been on tour with Mercury Prize nominees Field Music across the UK. We even caught up with them a few weeks ago for a quick pre-show chat. With their Northern Noise Live date looming we asked band members Tim McIver and Rebecca Palin to compile a list of their favourite tracks. Check them out below!
Got your tickets for Northern Noise Live: Golden Fable? If not head here!
Adem – Everything You Need
"Homesongs by Adem is like an old friend. I found out about Adem almost by accident, but became totally hooked on his music – it just seemed so honest. As a teenager at the time it was easy to feel like music should always be about electric guitars and rocking out, but this album made me realise that that really isn't the case. This was also one of the songs that made me want to throw away my plectrum and start finger-picking."
Hope of the States – Black Amnesias
"Another late teenage find thanks to going to see The Polyphonic Spree with my Mum. Hope of the States were supporting, and I was amazed. I loved their epic crescendos and their live intensity – it seemed like all 6 of them let out all of their emotions on stage. It was like nothing I'd heard before. This piece was so powerful and sparked my interest not only in them, but in instrumental music of all kinds."
Aphex Twin – Flim
"One of my friends made us a mix tape of all things Aphex Twin and this track instantly hit home for both of us. The sounds are all amazing – from the great, dream-like melody to the flittering electronic beats. Ace."
I Am Kloot – Proof
"Quite simply one of my favourite songs of all time. I must have heard it hundreds of times but the ending still makes my hair stand on end."
Boards of Canada – Dayvan Cowboy
"Another favourite. I love the mix of electronics and electric guitars in this, and those chords that come in at 1.45 are beautiful, and the strings at the 2.20 mark are absolutely perfect, and pretty much everything else about it. What a beautiful piece of music."
J S Bach – BWV – 1006 – Prelude from Lute Suite (played by John Williams)
"John Williams is a true master of his craft. I've spent many hours trying to get my hands around this stunning piece by J S Back on the guitar. I don't think I'll ever play it as well as John Williams does in this video but his discipline and meticulous attention to details is something I greatly admire. You'd think after a day in the studio writing the last thing you'd want to do is play music but classical guitar is my yoga/ fishing/ reading and this is one of my favourites to play."
Radiohead – Idioteque
"Radiohead have been a favourite of mine for years, and this track is incredible, especially when heard live (it's worth listening to the I Might Be Wrong live version too). It was one of the first pieces of music that I heard with electronics that was still filled with emotion and energy. I also love how Radiohead have changed and evolved with each album and the production of their albums is fantastic."
Neil Young – After the Gold Rush
"My love for Neil Young is growing all the time, and I'm slowly working my way through his excellent back catalogue. But this is the first song of his I heard and it instantly got me. The melody and chords fit together perfectly and his voice is so, so good. The instrumental section is brilliant too."
Eels – Mr E's Beautiful Blues
"E has to be one of the most consistently great artists I've heard. I love all of his albums, but I chose this song simply because it sticks in my head every time the sun comes out. Which is quite rarely at the moment!"
Elliott Smith – Angeles
"This song is close to perfect. There's not much more I can say – listen to it and fall in love. And if you haven't already, go an buy all of his albums. A truly great artist and sorely missed."
RM Hubbert – For Joe
"This is a new discovery of mine, but I wanted to include it as it is so moving. I stumbled across RM Hubbert at Green Man this year; he introduced this song and the whole crowd were visibly moved by it. It's a piece written in memory of a friend of RM Hubbert and is intended as a positive reflection of what a great person he was. I think it really captures that sentiment perfectly – very moving and though provoking."
Buy tickets for Northern Noise Live: Golden Fable here.
Have you heard about our Blackpool show with Nine Black Alps?
Words and interview by Simon Bland. (@SiTweetsToo)
Be sure to 'Like' us on Facebook and follow us on Twitter to keep up to date with all the latest Northern music news!