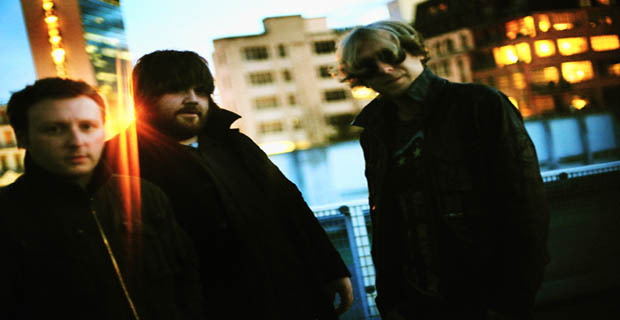 Yesterday we added another amazing band to the bill of our next Northern Noise Live event. Manchester indie trio I See Angels will be joining Idles to help City Reign celebrate their single launch at The Castle Hotel. We couldn't be more excited to have these guys play for us and thought a little introduction was in order. Here's a compilation of their favourite tracks that'll help you see where they're coming from. Enjoy!
Buy tickets for Northern Noise Live: City Reign Single Launch w/ Idles & I See Angels right here.
Buy tickets to Northern Noise Live: Nine Black Alps in Blackpool here.
Talking Heads – Memories Can't Wait 
Paul: "One of my favourite songs, from one of my favourite albums, by one of my favourite bands. I love the way their sound evolved, incorporating many diverse influences along the way."
Tune-Yards – Bizness 
Paul: "The first time I heard this album it made me consider downing tools and doing something else with my life. This song illustrates why. Merrill Garbus is so talented."
Radiohead – Pyramid Song 
Chris: "It's a class song!"
The Beatles – I Want You (She's So Heavy) 
Martin: "It reminds me of when I was young. It was the first song that genuinely hypnotized me and it has the best bass line."
Stina Nordenstam – Get On With Your Life 
Paul: "Stina has such a unique and haunting voice and writes the most beautiful songs. I admire her reclusiveness when most artists are overloading us with information about themselves all the time. I especially like the way she pokes fun at her own cowardice in this song with the lyric, 'They put a needle once in my spine, it took them… So long to find it.'"
Alice In Chains – Them Bones 
Chris: "It was the first song I heard by them and it blew me away. It still does."
John Coltrane – Resolution 
Paul: "I've been listening to this since my early teens. It never gets old. I never leave home without it."
Simon & Garfunkel – Wednesday Morning 3AM
Martin: "It's got the best harmonies I've ever heard!"
Kate Bush – This Woman's Work 
Martin: "It's my favourite song by my favourite artist. It's a song to drift away to."
10CC – I'm Not In Love
Chris: "Because I can relate to it!"
Buy tickets to Northern Noise Live: City Reign Single Launch w/Idles & I See Angles here.
To buy tickets to Northern Noise Live: Nine Black Alps in Blackpool, head here.
Words and interview by Simon Bland. (@SiTweetsToo)
Be sure to 'Like' us on Facebook and follow us on Twitter to keep up to date with all the latest Northern music news.