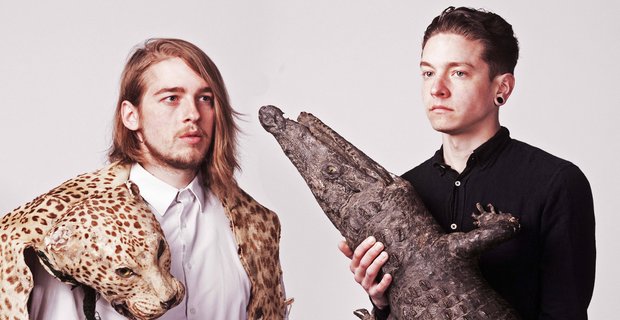 Fresh from their show at Manchester's Fallow Café earlier this week, Dublin rock duo Kid Karate share with us the tracks that inspired them to make some noise. We caught up with guitarist/frontman Kevin Breen and drummer Steven Gannon and asked them each to select five of their all time favourite songs. What follows is a varied mix that when digested through the musical brains of this thundering twosome becomes the howling embrace that you'll find lurking on their debut EP,  Lights Out. See what you think…
Kev's Top 5:
Talking Heads – Girlfriend Is Better
"Hard to pick a Talking Heads song as I love them all but this one gets me every time"
Stevie Wonder – Higher Ground
"Serious groove, love listening to this song before a set"
Led Zeppelin – Since I've Been Loving You
"Spent countless hours trying to learn this note for note as a teenager"
LCD Soundsystem – Someone Great
"This blew me away the first time I heard it and started me off on my love affair with LCD"
Layla – Derek and the Dominos
"This was the first riff I learnt on guitar"

Steve's Top 5:
Moby – Shot in the Back of the Head
"This song gives me shivers every time I hear it. Makes me happy that something so simple can be so powerful and emotive"
Interpol – Untitled
"This song will be played at my funeral. On repeat. During the entire ceremony"
Elliott Smith – No Name No.5
"The first time I heard this song it blew my fucking mind. So simple. So honest. So perfect."
Neutral Milk Hotel – Oh Comely
"Some of the best lyrics I've ever heard. 'Your father made foetus's with flesh-licking ladies while you and your mother were asleep in the trailer park' "

LCD Soundsystem – Home
"No matter what mood I'm in, if I hear this song it cheers me right up and no doubt is responsible for my many dodgy dance moves"
And don't forget…
…to check out the boys themselves. Here, give their new one Two Times a try.
Words and interview by Simon Bland. (@SiTweetsToo)
Be sure to 'like' us on Facebook and follow us on Twitter to keep up to date with all the latest Northern music news!