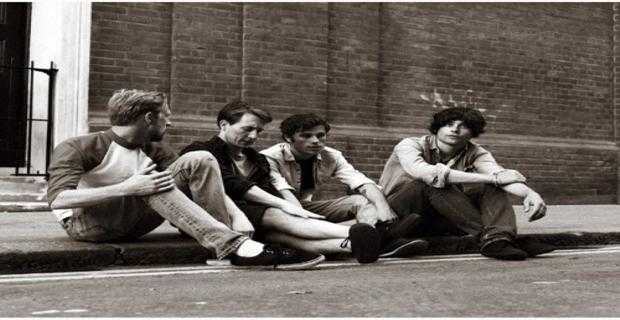 We caught up with Manchester's own Temple Songs and invited them to take part in one of our regular features, the Personal Playlist. Below you'll find a glimpse inside the creative mind of font-man Jolan Lewis as he takes you through his musical history and the songs that influenced one of the cities most hotly tipped bands. Ready? Let's go…
David Santo – Jingle Down A Hill
"I love the Gately & Fitzgerald version, it's eerie, but this is just a perfect performance and recording. I think that the word 'serene' has no greater use than to describe this one record. Sounds like the start of a movie where nothing really happens, but you always say is one of your favourite films just cause it has a great soundtrack or whatever."
Eddie Callahan – Dying To Sing
"I've been obsessed with this album for a while now. Pure pop for now people. The reissue on Time-Lag is one of the best I've ever seen too, really beautifully packaged."
Jacques Dutronc 'La Compapade'
"I saw him at Fete de l'Humanite in 2010, and I lost it when he played this one. I had expected all of the 'J'aime Les Filles' and 'Les Cactus' and stuff, they're French national anthems, but this is a bizarre tribal chant buried on the second side of his first LP."
Paul McCartney – I'll Give You A Ring
"I love it when B-sides are better than their better-known other halves."
Fred Frith – No Birds
"I wanted to put 'Hello Music' on here but it doesn't seem to be on YouTube. To be honest, this is a much better representation of the LP, there's not really anything else on there like 'Hello Music'. Fred Frith, along with Derek Bailey and Lou Reed, has been a major influence on my guitar playing, especially on this record."
Robert Wyatt – Muddy Mouse (c) Which in Turn Leads To Muddy Mouth
"When we first started, you know, 'going out' when we were 16, we used to go back to Andy's house and put on Robert Wyatt's 'Shleep' while we all fell asleep on the floor. Wyatt was one of the first guys we realised we all liked, along with Beefheart. I chose this track from the underrated 'Ruth Is Stranger Than Richard' cause Fred Frith plays piano on it, and it features what is absolutely the most hauntingly beautiful recording of mouth-trumpet that I can think of."
JK & Co – Christine
"I just got my old mp3 player working, it's been off since 2006 and there's so much I'd completely forgotten about. This was one of my favourite albums at the time. It also bugged me cause JK was 15 when he made it and I was 16 when I discovered it. I'm 25 now and I haven't come much further."
Gary Schneider – My Green Tambourine
"Such a great cover. The tambourine is rarely in time with the rest of the music, and yet it never really feels out of time.. Anyway, the organ sounds shimmery and creepy and it's got this Bruce Haack-style vocoder all over it."
The Godz – In My Shadow
"Fuck, if I just ignore the Beatles for a split-second, The Godz are my favourite band of all time. It's pop music but with none of that bullshit about tuning or synchronization, and yet it never feels truly 'experimental'. It reminds me of Ad Reinhardt's black paintings, you know, you can say, 'Well, of course it's a painting, but is it really a painting?'"
Jan & Dean – Girl, You're Blowing My Mind
"A cool song and a fearless production job. This was done after Jan's accident, he came back after a coma and learning to walk again (and being caught on a beach trying to bite through his own wrists) and produced this psychedelic record. That weird horn sound in the second chorus kills me every time, it's honestly one of my favourite moments in the history of recorded music."
And let's not forget…
Temple Songs follow up their more-addictive-than-Krispy-Kreme-donuts debut single Passed Caring with the psychedelic pop tune I Can't Look After You, which is out on October 14th. Check it out, below:
Words an interview by Simon Bland. (@SiTweetsToo)
Be sure to 'like' us on Facebook and follow us on Twitter to keep up to date on the latest Northern entertainment news!