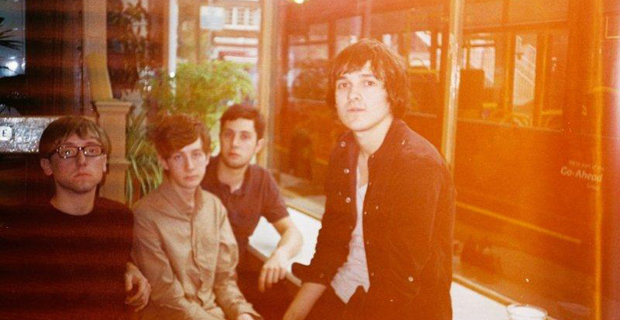 Yesterday we asked Novella to take us on a guided tour through their musical inspirations and influences by compiling a Personal Playlist. They kindly obliged. However they aren't the only band that we want to learn a little bit more about. Joining the Brighton trio at Sound Control this Friday for Northern Noise Live are Towns, a Bristol based quartet who enjoy nothing more than sticking bygone Britpop and dreamy shoegaze melodies into a blender and experimenting with the gooey results. It comes as no surprise then that we were well interested to find out which tracks were to blame for their nostalgia-fresh sound. We caught up with Towns to ask them to spill their musical beans ahead of this Friday's mega-show, tickets for which can be bought here at the scandalously cheap price of £6. Buy one quick, before we realise we've made a mistake.
Slowdive – Souvlaki Space Station
JP: "I love how this song just washes over you."
Adam Gnade- Run Hide Retreat Surrender. 
James: "Adam is a songwriter, poet, novelist.  His songs and stories bleed into one another. Lyrically astonishing. JP and I interviewed him once for our short lived radio show during uni. He's a lovely man, and a genius."
The Beatles – Blue Jay Way
JP: "Magical Mystery Tour is one of my favourite Beatles albums. It's probably Lennon's best album, but I always feel Harrison gets overlooked. So I've chosen his song. I love the strung out vibe, it's what bands like Tame Impala are trying to achieve now."
The Flaming Lips – Slow Nerve Action
James: "We were talking about Flaming Lips to fans who came to our show in Cheltenham at the start of this tour. I love Tranmissions from a Satellite Heart especially the drum sounds, this riff and Wayne Coynes' mind. Enjoy."
My Bloody Valentine – I Believe
JP: "I love the single note piano. It's totally different to the rest of their stuff."
Jonathan Richman & The Modern Lovers – I'm Straight
James: "'Now look, I like him too, I like hippie Johnny. 
But I'm straight
 and I want to take his place.' Coolest song ever."
Galaxie 500 – Don't Let Our Youth Go To Waste
James: "This is a cover of a spoken word piece from Jonathan Richman. Love what they have done with this. Dean's strung out guitar playing is ace!"
The Brian Jonestown Massacre – Hide and Seek (live in Benicassim)
JP: "This version of the song is just incredible.  During the ending Anton improvises a tribute to The Smiths 'This Joke Isn't Funny Anymore'.  It's one of my favourite Smiths songs and suits the ending of this song perfectly."
The Stooges – No Fun
James: "This gets played a lot in the tour van, which is actually a Vauxhall Astra (you'll see it when we come to Manchester…)  We cram ourselves in the car with all the gear, it's especially hard the morning after shows when we're all fragile. This songs lifts our spirits."
Spiritualized – Come Together
JP: "Another band that features heavily when we're driving to gigs. This song is just huge. Love the big guitar sounds.  Feel so privileged to have done a few shows supporting them.
Buy tickets to Northern Noise Live: Novella w/Towns right here!
Words and interview by Simon Bland. (@SiTweetsToo)
Be sure to 'like' us on Facebook and follow us on Twitter to keep up to date on all the latest Northern music news!