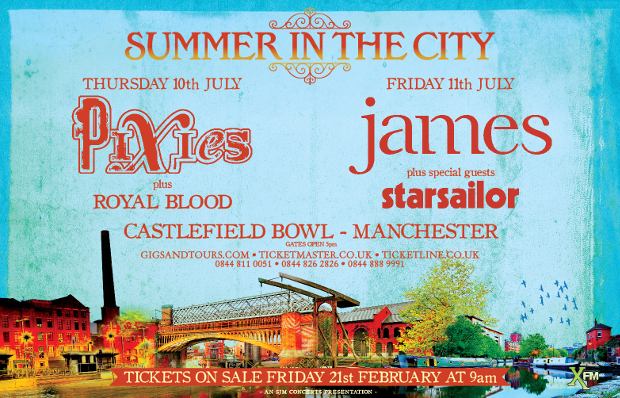 YES. We can already start looking forward to the summer.
Forget the rain, the floods, the drizzle, the rain, the flood and the rain. It's time to at least pretend that for one weekend we might have some sun.
Hopefull it'll come on the weekend of this year's Summer In The City.
Headlining on Thursday 10th July  will the legendary Pixies, with local favourites James performing one of their renowned sets on Friday 11th July. Pixies will be joined by hotly tipped Brighton duo Royal Blood, and James will be joined by special guests Starsailor
Pixies returned to the live stage last autumn and premiered brand new songs, the first collection of new material since 1991's Trompe le Monde.  Their five studio releases and initial six years together forged the path for groups like Nirvana and Pearl Jam to follow behind them.
The Pixies disbanded in 1993 and launched their reunion tour in April, 2004 when virtually every single date sold out within minutes and fans travelled hundreds of miles to attend a show.  The Pixies – Black Francis – guitar/vocals, Joey Santiago – guitars/backing vocals, and David Lovering – drums/backing vocals – will be performing at festivals all over the world including Primavera and Field Day, with the most wide-ranging concert set-list in the band's career.
Since forming in Manchester in 1982, James's enduring creativity and musical legacy has made them one of the most influential British indie bands.  During their music career now spanning over 30 years, they have sold 13 million albums worldwide.
James' biggest hits include Sit Down, She's A Star, Laid and Getting Away With It All (All Messed Up), with an impressive 20 Top 40 singles in the UK under their belt. Having spent most of 2013 in the studio the band are currently finalising their forthcoming new album, mid a busy calendar of live shows globally from the summer.
Reforming specially for Summer in the City, special guests Starsailor are set to perform for the first time in over five years. Their highly anticipated return follows a career that spanned a decade and saw the band release two top 10 albums, including 'Love is Here' and 'Silence is Easy' that reached Platinum and Gold certification respectively.
The iconic Castlefield bowl in the heart of Manchester City Centre played host to the Courteeners in 2013 for two hugely successful sold out concerts.
More special guest supports for Summer In The City will be announced soon.
————————
Tickets go on sale Friday 21st February @ 9am
www.Gigsandtours.com / www.ticketmaster.co.uk  / www.ticketline.co.uk
0844 811 0051 / 0844 826 2826 / 0844 888 9991