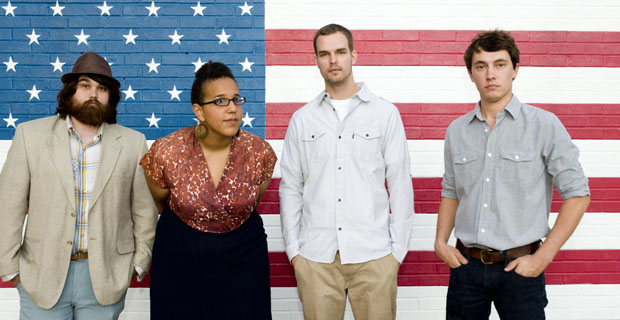 The guys in Alabama Shakes have been doing a good job of shaking things up of late. With appearances in the Guardian Guide and MTV's 'Bands of the Year' list, it's no surprise that they soon attracted the attention of the coolest man in music, Jack White. Together, they'll be releasing a series of singles on White's own label, Third Man Records but before that happens, a trip up North is in order.
Alabama Shakes will arrive at The Deaf Institute on May 10th, making their Mancunion debut in one of our most iconic and intimate venues. They've taken their time getting here though. In fact, the band have come a long way from their humble beginnings in Athens, Alabama. Things started to click together back in 2009, when its now soulful leading lady Brittany Howard was nothing more than a high school psychology student. Teaming up with bassist Zac Cockrell, drummer Steve Johnson and, eventually, guitarist Heath Fogg, the foursome set out to discover their sound.
This audio exploration took them through a variety of different genres, from country and soul to prog and classic rock. Eventually their multiple influences combined to form the distinctly rootsy Southern rock explosion that forms the backbone of their enigmatic and uplifting debut Boys & Girls. From the deep South to the heart of the North, with any luck Alabama Shakes' first ever Manchester show will be the beginning of a long love affair with Northern music fans. Head down to the Deaf Institute on May 10th and you can boast that you were there when Alabama Shakes shook up Manchester for the very first time.
Be sure to 'Like' us on Facebook and Follow us on Twitter to keep up to date with all the latest Northern Music news! 
Words by Simon Bland.