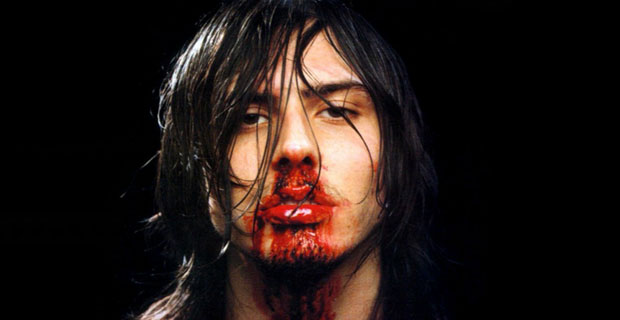 Stock up on Strepsils because Andrew WK is returning to Manchester.  The screamy singer will be arrive on our shores in April to celebrate the ten year anniversary of his booming debut I Get Wet. WK will be joined by a full band for a trio of dates including stops at London's HMV Forum, Manchester Academy 1 and the Glasgow Garage.
The multi-talented, white denim enthusiast has had an unusual career filled with many ups and downs. I Get Wet sent him soaring up the Billboard Charts in 2001 but since then he has tried his hand at a number of professions, including motivational speaking and running a New York night club. Perhaps one of the most left field stories surrounding the star has been that he doesn't even exist. This rumour started when music insiders from the Guardian and Pitchfork accused WK of being a media construction, with the mysterious 'Steev Mike' secretly pulling the strings.
The 'Steev Mike' in question was initially credited as an executive producer on WK's albums, however when an internet imposter got involved things got confusing. Here's what WK had to say: "Since 2001, I have been accused of being part of a conspiracy in which I knowingly entered into a contract with creative directors called Steev Mike, who proceeded to invent a new identity for me to perform under. I'm here to say this is simple not true and a gross exaggeration of easily explainable and common-place music industry practices."
While Party Hard may be the track fans know best, WK has released a string of albums since the early 00's including last year's solo instrumental effort 55 Cadillac. This tour announcement follows news that a new album is in the works. WK teased fans via Twitter back in April of 2011: "Don't you realise I'm recording a new full-length party album? It is a mega party vibe."
That trademark party vibe will also be accompanying Andrew WK and his band to Manchester next April. Tickets are on sale now.
London HMV Forum – April 12
Manchester Academy1 – 13
Glasgow Garage – 14
Words by Simon Bland.