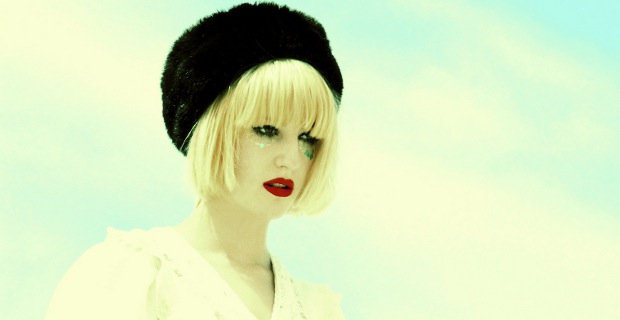 Beth Jeans Houghton & The Hooves Of Destiny may sound like a new Wallace & Gromit movie but, although that would be awesome, this is almost as good.
The Newcastle singer Beth and her band will be on a national tour from the 24th January to promote the release of her debut album, Yours Truly, Cellophane Nose, which will be available from the 6th February.
Produced by Ben Miller (who's worked with Blur, Elbow and Depeche Mode) the album has received positive feedback from critics and she'll be hoping for the same reaction from fans.
February sees her perform at Manchester's Deaf Institute, which will be a great venue to see such a weird and wonderful performer, plus the band – Dav Shiel (drums, vocals samples) Rory Gibson (bass, vocals), Ed Blazey (guitar, trumpet, vocals) and Findlay Macaskill (violin, vocals).
Two days before Manchester, she'll have seen the single Sweet Tooth Bird also released. At only 2 minutes 14 seconds long, it's pretty easy to say that she doesn't waffle. The singer says that it's about sabotaging a relationship. "I think there is this strange feeling of guilt that we all get once we reach a stage of happiness. It is human nature to exist with grief and sadness," she explains.
If you've never seen Houghton before, expect big wigs and entertaining musings between songs which give an insight into her unique personality.
 So, when you go to see Beth & her troop of hooves, when you leave the gig having had a brilliant time, be sure to feel guilty for buying a ticket and cry tears of joy. Human nature and all that.
 Words: Daniel Savage
TOUR DATES: 
 Tue 24 Jan, BELFAST, BLACK BOX 
Thu 2 Feb, LONDON, HMV Next Big Thing, Garage 
Fri 17 Feb, GLASGOW, THE CAPTAINS REST 
Sat 18 Feb, ST. ANDREWS, ST. ANDREWS UNIVERSITY 
Sun 19 Feb, MIDDLESBROUGH, WESTGARTH SC 
Tue 21 Feb, LIVERPOOL, ERIC'S   
Wed 22 Feb, MANCHESTER, DEAF INSTITUTE   
Thu 23 Feb, LEEDS, BRUDENELL        
Sat 25 Feb, GATESHEAD, OLD TOWN HALL 
Sun 26 Feb, LEICESTER, THE MUSICIAN 
Mon 27 Feb, CARDIFF, BUFFALO 
Tue 28 Feb, BRISTOL, LOUISIANA 
Wed 29 Feb, BIRMINGHAM, HARE & HOUNDS 
Thu 01 Mar, LONDON, HOXTON BAR & KITCHEN