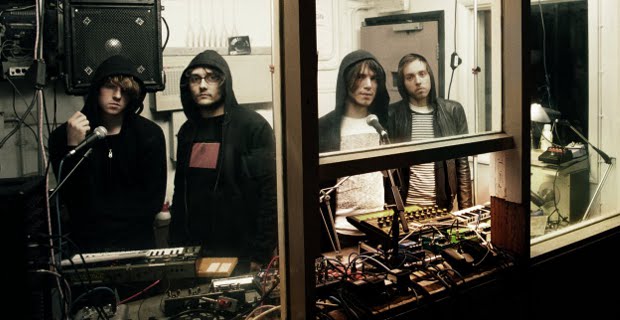 There's a recession on apparently. South London four-piece Breton are unlikely benefactors, having acquired a disused bank as their creative space. Upon arrival in Salford, a gig in a once derelict mill awaits.
Now an artistic hub, Islington Mill will prove perfect for this inventive bunch. Not only multi-instrumentalists but film-makers too – their Massive Attack meets Tom Vek maelstrom of mood and groove is performed with only self-made projections illuminating faces from obscurantism.
Via BretonLABS – a new name for the abandoned lair – three EP's have emerged, not to forget remixes for the likes of Chapel Club and Is Tropical too. Having signed to Fatcat a full-length debut has been recorded in the label's bespoke Iceland studio.  Titled Other People's Problems, it's due out on March 26th.
Expect the gig to be a multi-sensory experience illustrating the experimentation undergone over the course of three impressive EP'S. The latest of these can be downloaded for free via Breton's facebook page. Listen to it below. We think Sandpaper proves their best, if not most Vekian (yes that should be a real term).
Words: Simon Butcher