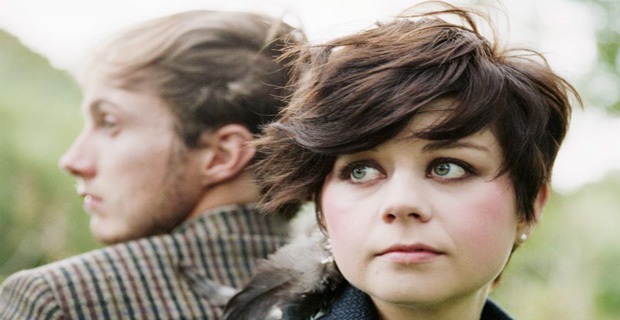 Golden Fable was born out of the multi-instrumental cult group Tim and Sam's Tim and the Sam Band. Tim McIver and Rebecca Palin, the founders of the new band decided that it was time for the charming innocence of Tim and Sam to grow up and went to their studio in North Wales to create a record with depth, darkness and beauty.


The first we heard of their new sounds are the two singles that have been released so far. The first, 'Chill Pt.2' was a layered acoustic electronic hit, with the haunting high reaching voice of Palin cutting through the spacious backdrop of repeating sound, with McIver joining in for the chorus.
Then, on March 5th they released 'Always Golden'. As a musical journey it takes you from intimate forests to sweeping landscapes, her voice gliding high throughout. As well as this single there is a fantastic cover of the Manic's 'Motorcycle Emptiness' which they have really made their own.
To see how they achieve this expanse of sound in a live setting will be truly remarkable and if you can make your way down to The Deaf Institute on the 23rd we doubt you will be disappointed.
words by Daniel Savage
LIVE SHOWS
23rd March – Manchester The Deaf Institute
24th March – Plymouth Devonport Guildhall
21st April – Wrexham Central Station
7th June – London The Young & Lost Club Acoustic @ The Lock London
Enjoy live music? Then you'll love our Northern Noise Live events.