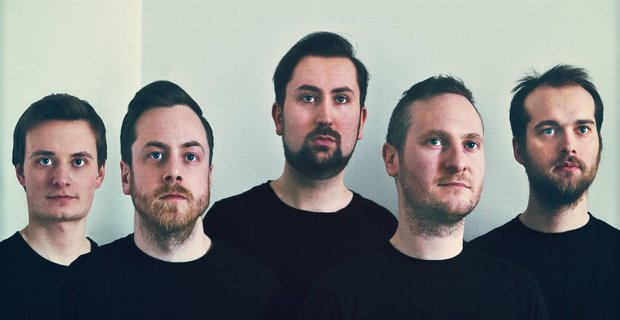 Moody post-rock outfit iLiKETRAiNS are set to embark on a brief tour early next month in celebration of ten-years spent making music together. These intimate dates will take this Leeds-formed five piece to London, Paris and Brussels finally landing them in Salford's own St Phillips Church on February 28th. This anniversary tour will see them perform their first EP Progress/Reform in its entirety, a calling card release which grabbed the attention of music lovers back in 2006 with its dark charisma and brooding charm. Check out the EP's colossal opening track Terra Nova below:
This poe-faced sense of determination and wall-of-sound work ethic continued to inspire the band's subsequent releases, with 2007 album Elegies To Lessons Learnt backing up their original promise and 2012's The Shallows adding a dash of synthetic drums into the mix for good measure. However as good as their newer material is, it's their original work that takes centre stage on this exciting show at St Phillips Church. Sounding like a blender mix of raw Sigur Rós cacophonous melody and haunting Editors vocals, catching iLiKETRAiNS at St Phillips Church will probably be as close to a religious experience as you're going to get. 

Reflecting on their decade of music making, vocalist Dave Martin had this to say: "We have become known as a band that looks to the past for its inspiration, but it does feel strange to be celebrating our own history. 10 years seems like quite an achievement in today's musical landscape. Sometimes it feels like a lifetime, and at other times it feels like we're just getting started. We've always had our eyes on what we do next, and it is that mindset that has kept us together making music and enjoying what we do.
"It is reassuring to hear what our debut record 'Progress Reform' still means to people. Revisiting those songs in rehearsal has been an interesting experience, and I'm really looking forward to playing them live again. This process has allowed us to get a little bit of perspective on what we've been doing for the last decade, and will almost certainly inform what we do next." Tickets are on sale now.
28 FEBRUARY – ST. PHILIPS CHURCH – SALFORD, UK 
Words by Simon Bland (@SiTweetsToo)
Be sure to 'like' us on Facebook and follow us on Twitter to keep up to date on all the latest Northern entertainment news!