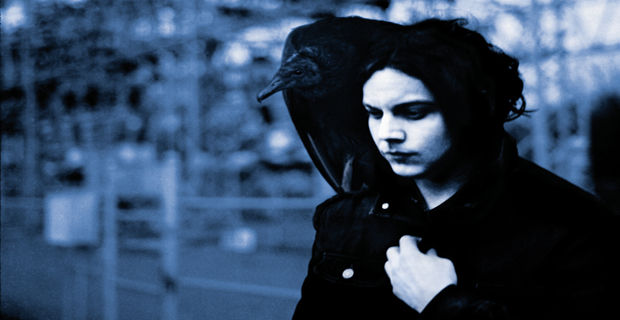 Jack White has somewhat of a history with Blackpool. Back in 2005, he visited the proud seaside resort with his musical partner Meg for two sold out shows as The White Stripes. This musical excursion was a shot in the arm for a town that was once a regular stop on the touring band trail but like most things in the area had since fallen into disrepair. Those two nights saw Jack and Meg delight hundreds of Northern fans under the Empress Ballroom's ornate ceiling. Clearly word of the venue's picturesque interior had spread to White's ear, convincing him to select the town to host their first and as of yet (there's another on the way) only live DVD, Under Blackpool Lights. A nod of approval of this magnitude, from one of the most innovative and compelling musical minds working today, was enough to set the stage for others to sit up and take notice. As a result, in the years since White's trip up to Blackpool the venue has seen the likes of Dave Grohl, Josh Homme and Thom Yorke pay the resort a visit. Suddenly this once-holiday hotspot was transformed into a live music tour stop.
The White Stripes may no longer be around but White's fascination with Blackpool remains. Next month he'll return to the Empress Ballroom as part of his 6-date fall tour, an express trek which excludes more renowned cities like Manchester and Leeds in favor of this Northern seaside getaway. He'll be bringing with him Blunderbuss, his first collection of solo material since he parted ways from the various bands that he often dabbled with. Recorded after RZA unexpectedly pulled out of a scheduled Third Man Records recording date leaving White with a studio full of musicians and some itchy guitar fingers, this 13-track project is playful and powerful all at once. Uninhibited by co-workers and collaborators there's a severe lack of chefs here to ruin the broth, gifting White free reign to play around with his own sound. The result is a stew of moody blues and punchy rock, punctured by his signature screeching vocals and off-kilter stylings.
But White's live performances are a different beast altogether. Last week, during a two day stint at New York's Radio City Music Hall he enraged fans with a painfully brief (45 minute) set only to delight them the following evening with a much longer performance. Covers from the likes of Bob Dylan, Lead Belly and Dolly Parton are not uncommon while classic White Stripes songs often make an appearance at his solo shows. However it's this mix of unpredictability and pure unbridled talent that have made White one of today's most alluring and mysterious musical icons. Throw a rock these days and chances are you'll hit a band that plays music, releases records and tours incessantly but in 20 years time only a handful will still be discussed with awe. Blackpool's biggest supporter Jack White will be one of them.
Full dates:
October 31: O2 Dublin Arena in Dublin, Ireland
November 2: Alexandra Palace in London, England
November 4: Bridlington Spa Theatre and Royal Hall in Bridlington, England
November 6: Blackpool Empress Ballroom Arena in Blackpool, England
November 7: Birmingham O2 Academy in Birmingham, England
November 8: Usher Hall in Edinburgh, Scotland
Words by Simon Bland. (@SiTweetsToo)
Be sure to 'Like' us on Facebook and follow us on Twitter to keep up to date with all the latest Northern music news!