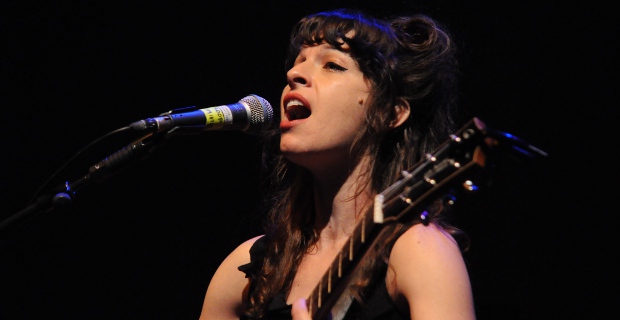 Originally from California, Jesca Hoop became a Manchester resident on the advice of Elbow's Guy Garvey, who stumbled across her while mastering Leaders Of The Free World in Los Angeles. She went on to become the main support for Elbow on US and UK tours. Not to mention performing a duet with Garvey on Murder Of Birds – a beautifully stripped-back song depicting the deterioration of love.
As to whether Hoop has fallen in love with the grey skies since coming from such sun touched surroundings remains to be seen, but nonetheless the UK warmly welcomed her last album, Hunting My Dress. The record was an exciting mixture of melodic ideas and abstract lyrics, all articulated by a gripping vocal talent.
Last year she tantilised fans with the Snowglobe EP, a haunting collection of experimental bare-bones folk. City Bird (above), taken from the release, is a harrowing account of loneliness and desperation. Her inspiration comes from memories of time spent living in the underbelly of LA, on a skid row. She remembers "an elite hotel with a skirt of cardboard houses wrapped around its foot", after a surge in homelessness during the '80s. "The block I moved into was lined with these cardboard houses and people sleeping in doorways. What left the biggest impression on me was the look in their eyes. I witnessed many possessed," she recalls.
Work is rumoured to be complete on Jesca's new album and she'll be playing a few small shows to give fans a taste of new material. She'll be playing an intimate show at Manchester's Cornerhouse on February 4th.  
Words: Simon Butcher